Max Verstappen remains on seven penalty points after the opening eight rounds of the 2022 season, with the Ferrari pair of Charles Leclerc and Carlos Sainz still on zero.
Therefore, should the Dutchman pick up another five penalty points in the coming races, he will be handed a one-race ban.
Verstappen's title rival from last year, Sir Lewis Hamilton, is on two after he was penalised for the collision that took the Dutchman out of the British Grand Prix, while Verstappen was handed two of his own for the crash between the pair in Italy.
He got two more for failing to slow for double-waved yellow flags in Qatar, and got three in Saudi Arabia for two separate incidents when he passed Hamilton off the circuit and was then deemed to have caused their collision later on in the evening.
The 24-year-old, provided he remains incident-free, will have his points expunged on 12 September this year, exactly a year on from his first points, so he has eight rounds to go until he is set back to zero.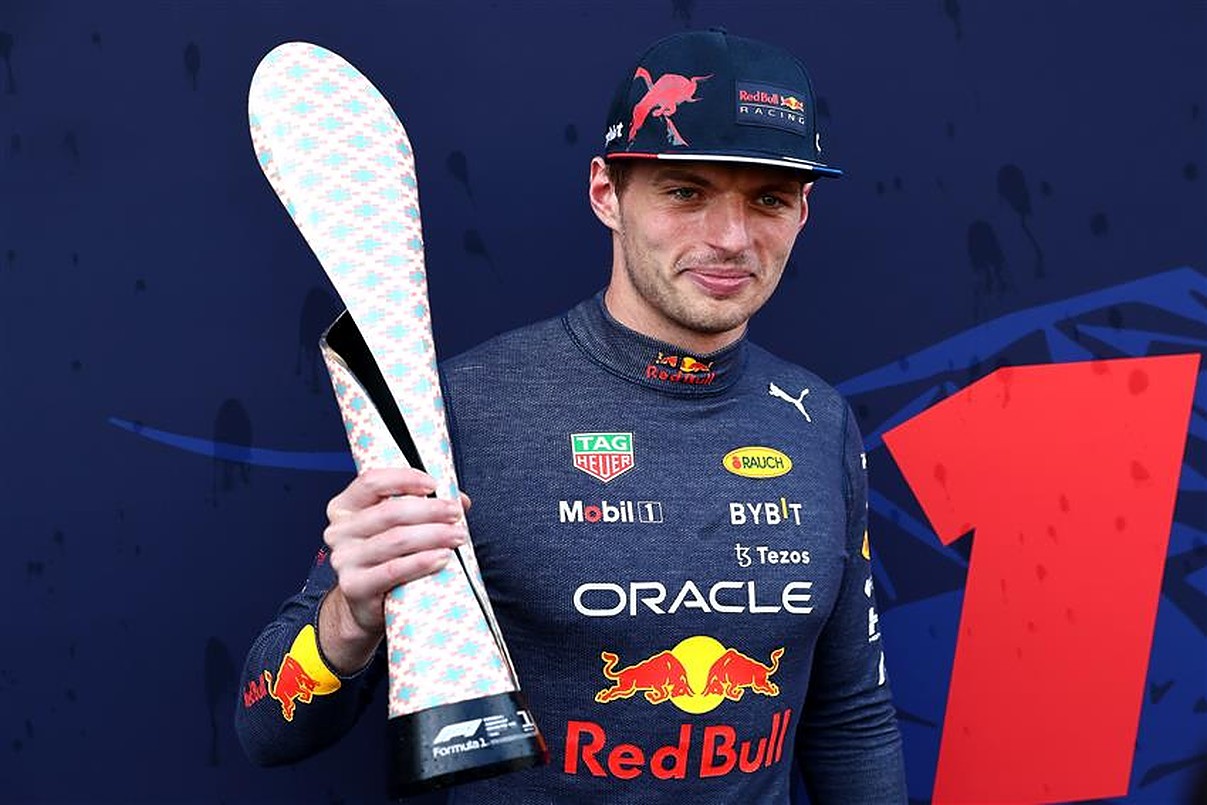 READ: Horner reveals car set-up gave Verstappen pace advantage over Perez as he rubbishes team orders claim
Sergio Perez is on five points, four of which were obtained in the same race when he twice ran Leclerc off the racetrack in Austria, while George Russell also finds himself on two following his love tap on Sainz at the British Grand Prix sprint race last year, which sent the Spaniard across the grass at Luffield.
Verstappen won last weekend's Azerbaijan Grand Prix after passing Perez, who had initially passed polesitter Leclerc for the lead at Turn One.
The Monegasque took advantage of a Virtual Safety Car caused by a reliability-related retirement for Sainz to get back into the lead, but a reliability failure of his own gave Red Bull their third one-two of the season.
Article continues below
The reigning champion had been stuck behind the Ferrari in the early going but, once he got into the lead, it was relatively plain sailing.
"The pace was very strong," Verstappen told Sky Sports.
"I think already from the start I was in the DRS of Charles but just not enough extra top speed to have a go, just the last two corners were difficult to follow.
"Then once they chose to box for the VSC and we continued, I had good pace, I made the move on Checo and then basically took off.
"We pitted for the hard tyre, it would have been interesting to see how much faster we would have been compared to Ferrari but we never cause to that of course because they retired.
"Since that point, it was just all about managing the tyres and, when you're driving of course they [the team] can tell you a target lap time but when you feel good and all under control, you just keep that lap time."
READ: Vettel 'very pleased' as Aston Martin extract performance from B-spec car
Leclerc won two of the opening three rounds of the season in Bahrain in Australia as Verstappen suffered reliability failures of his own in both of them, but Leclerc has suffered retirements in Spain and Baku recently.
Verstappen emphasised the importance of remaining vigilant as, while Red Bull have turned the tide in the last five races, the same could easily happen for Ferrari.
"It's about always scoring points," he explained.
"It doesn't matter, it can be if you have a crash or reliability issues, it's still zero points and you don't want that.
"And you want to be on top of everything, and I think at the beginning of the year we were not.
"I think we learned from it but it's never good enough, you always have to stay on top of it and it's still a very long season."
Verstappen now holds a 21-point championship advantage over team-mate Perez, who leapfrogged Leclerc for second after the result in Baku.