Sebastian Vettel had his best performance of the season at the Azerbaijan Grand Prix, after the Aston Martin F1 Team driver crossed the line in a superb sixth place.
It was a great afternoon in Baku for Vettel, who would've been fighting Pierre Gasly for 5th had it not been for a costly error during the race.
The German did brilliantly to overtake Sir Lewis Hamilton in the pits during the first round of stops, however, Vettel made a mistake when stuck behind Esteban Ocon which cost him valuable time.
Whilst the majority of the field pitted under a Virtual Safety Car to rescue Carlos Sainz' stricken F1-75, Ocon opted to stay out and go deep into the race.
Vettel had much fresher tyres and superior grip to the Frenchman, the problem was though that Ocon's Alpine was a rocket down the straights.
This meant Vettel had to brake later than the French driver, in order to get past the Alpine.
The four-time World Champion's first attempt at an overtake saw him go down into the runoff section at Turn 3, losing him a huge chunk of time.
Vettel did well in getting back on track as quickly as possible, after a highly impressive U-turn.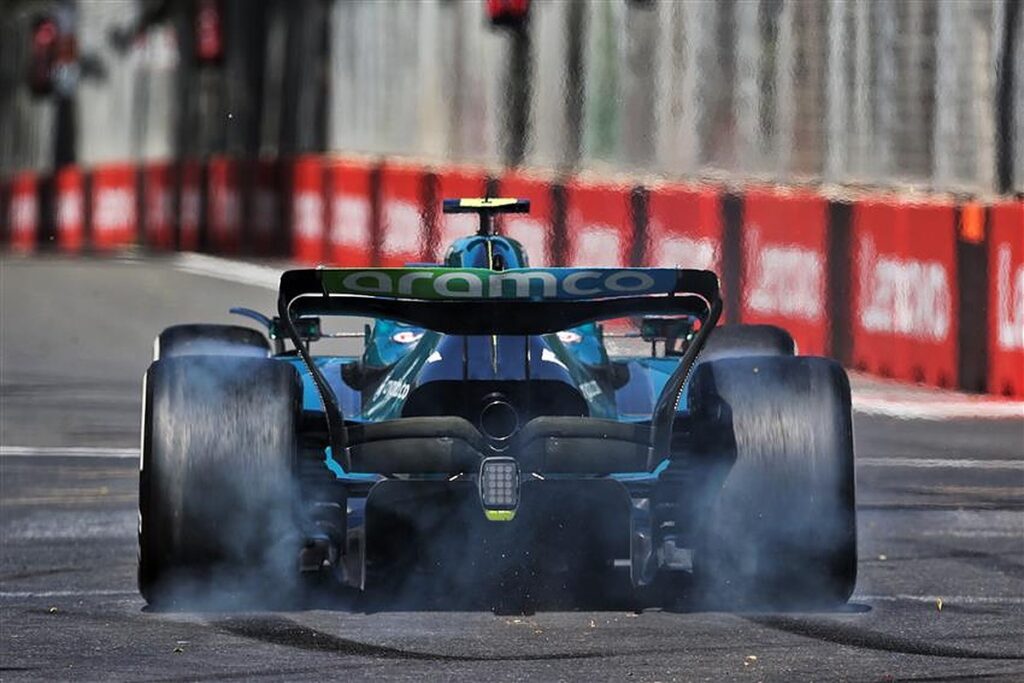 READ: 'It just feels horrible': Russell laments W13 despite outperforming Hamilton
Article continues below
It comes as a disappointment to the German, who had the pace for 5th in the GP.
Sixth is nevertheless an excellent result, although he's fully aware that a top five was possible.
"I think overall sixth is really good, we're really happy with the result," Vettel said in his post-race debrief.
"We had an amazing pit stop where we beat Mercedes with Lewis. After that, I think I was already past Esteban but then a bit late because I was sure he was going to battle for it and I wasn't quite sure so I took the emergency lane and lost a lot of time.
"Without that time, I think we could have had a battle for P5 on our hands, but nevertheless I think it's a really good result."
It was easily Aston Martin's most competitive weekend of the season, after running at the back of the field for the majority of the year so far.
The result fills Vettel with confidence and hope, that they can continue to battle with the better midfield teams going forward.
"Absolutely, we've been chasing the limits of this car now a little bit more and it seems to pay off, but we need to also be realistic," said Vettel when asked if it was the team's most competitive GP so far in 2022.
"I think this weekend, we were a little bit stronger than [Alfa Romeo], matching the Alpines, matching the AlphaTauri's and then it puts us in a different ballpark.
"So I think we are overall very pleased, and obviously for everyone in Silverstone back at base, I think it's a great result."
The same couldn't be said on the other side of the Aston Martin garage, as Lance Stroll had yet another woeful weekend.
The Canadian driver was eliminated in Q1, and then retired from the race late on after his mechanics noticed concerns with the car.
Stroll will be hoping for better fortunes next weekend at his home GP.
"A tricky day out there, looking forward to Canada now," Stroll said.
"We had some issues so we've got to look into exactly what it was.
"If you look at where [Vettel] is and where we are, for sure it was a pretty bad weekend, but I'm looking forward to Canada.
"The engineers could see the car was suffering from a vibration issue, so they asked me to retire the car. We are still not quite sure what the problem was, so we will have to do some work over the next week to investigate it and fix things," Stroll concluded.