Sir Lewis Hamilton does not believe Mercedes are a million miles away from matching Red Bull and Ferrari after his superb performance at the 2022 British Grand Prix.
On raw pace in qualifying, the top two teams in the championship locked out the front two rows for the seventh time this year, but it was an altogether different story in the race.
Hamilton had initially got past Sergio Perez and Charles Leclerc to get up to third place on Sunday, but was reverted to fifth when the grid was reset after Zhou Guanyu's scary accident that caused a red flag.
On the restart, Lando Norris passed the seven-time champion, who eventually dispatched the McLaren and set off after the Ferraris of Carlos Sainz and Leclerc.
Perez and team-mate Max Verstappen had both suffered damage which sent them down the order and, with Hamilton bearing down on the leaders, Sainz was holding up Leclerc.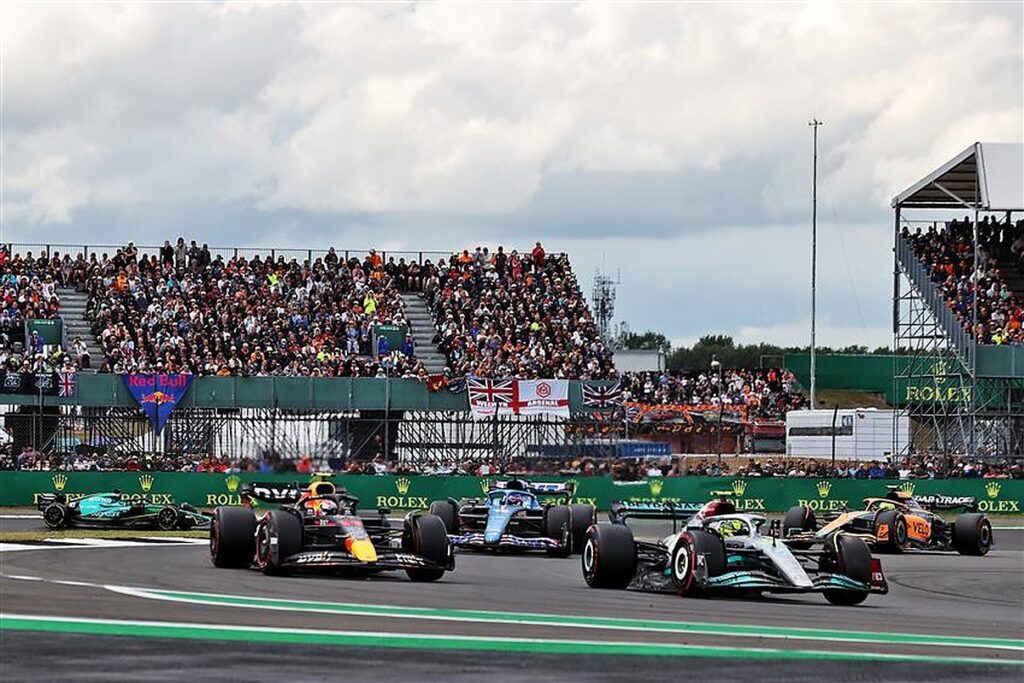 READ: Lewis Hamilton opens up on Abu Dhabi heartbreak as he was 'robbed' of eighth F1 crown
The 37-year-old pitted several laps after the Scuderia drivers, so he was rapidly catching Sainz after he had finally been moved over for Leclerc, and he looked in with a real shout of winning.
However, the Safety Car was deployed when Esteban Ocon came to a halt on the old pit straight, putting Perez onto the back of Hamilton for the restart.
Ferrari had decided to leave Leclerc out on the track while they pitted Sainz, leaving the Monegasque vulnerable, particularly after the 27-year-old passed him for the lead.
Article continues below
Perez, Leclerc and Hamilton got into a magnificent battle for second, with the Mexican coming out on top, as Hamilton beat Leclerc to finish third, setting the fastest lap on the final tour.
It was the 103-time race winner's third podium of the year, and an indication that Mercedes are beginning to catch back up to their rivals.
"We've made a step closer to them so we've got to keep pushing," said Hamilton.
"The fact that we were able to follow and dice like that, lap on lap, is a testament to the direction I think that we're now in.
"I was just grateful that I could be in the battle because I've not been in that fight for a while."
The Silver Arrows had brought upgrades along to the weekend, and the smoother track surface in Towcester was expected to be easier on their car too, so they were able to show some tremendous pace throughout Sunday afternoon.
READ: Lewis Hamilton still isn't over 10-second penalty as he fires jibe at Max Verstappen
"I think it's hugely encouraging that we were in the fight," added Hamilton.
"For a good period of time, I was matching the Ferraris´ pace, and even better at some stages, and we got the quickest lap at the end.
"I think the race pace was definitely improved, that's been our strongest part of our car, I think, this year in general.
"But it's definitely helped us get a little bit closer.
"I don't think we're in a winning position yet, but we're not far away."
Hamilton's team-mate George Russell was caught up in the accident that put Zhou into the fence behind the barrier at Abbey.
He abandoned his chances of getting back into the race by getting out of his car and running over to help the Alfa Romeo driver out of his car in an incredible show of sportsmanship.