Sir Lewis Hamilton took a swipe at Max Verstappen after his tremendous battle with Charles Leclerc at the British Grand Prix on Sunday.
The seven-time champion had an eventful day in Silverstone in front of his home crowd as he got up to third off the start ahead of Leclerc and Sergio Perez, before being reverted to fifth after the red flag period caused by a horrific crash that saw Zhou Guanyu launched over a barrier and into a fence.
The Alfa Romeo driver was thankfully okay and, on the restart, Hamilton could not make up the ground that he did initially, losing a place to Lando Norris when the McLaren driver took advantage of the 37-year-old swapper into Turn Four.
Hamilton managed to clear the 22-year-old though, and found himself catching Leclerc, who was being held up by polesitter and team-mate Carlos Sainz.
This was all after Verstappen had been sent down the order by floor damage when he ran over some debris at Maggots.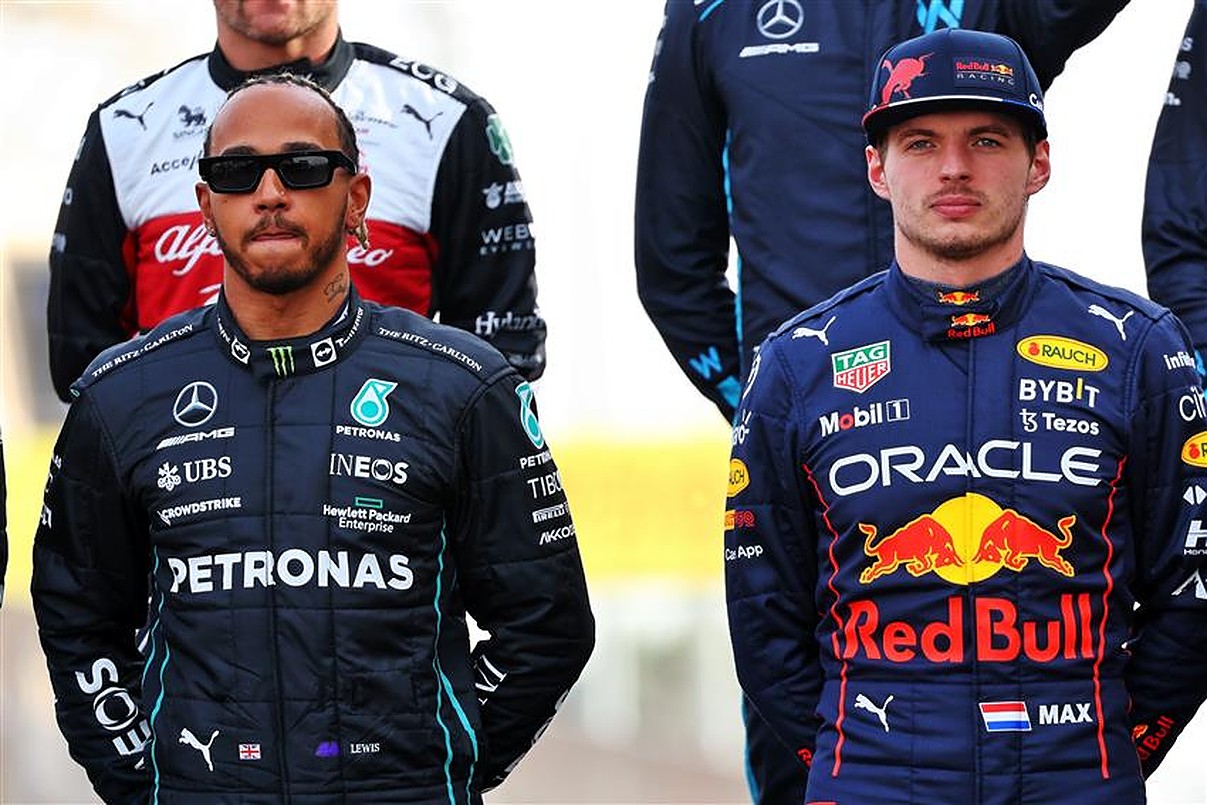 READ: Lando Norris wanted to make George Russell's 'life a little bit easier' at British GP
The Ferrari drivers pitted before the Mercedes driver, who would then come into the pits significantly later.
Despite a slightly delayed stop, Hamilton was catching the Prancing Horses on fresher Hards, but this advantage was mostly cancelled out by a late Safety Car.
Bizarrely, Ferrari opted not to double stack their drivers, and left Leclerc out on the track as they brought Sainz in, and the Spaniard quickly dispatched the 24-year-old on the restart.
Article continues below
Hamilton would become embroiled in a battle with Leclerc and Perez, who himself had tumbled down the order when he made contact with Leclerc on the opening lap of the restart, giving him damage that forced him into an early stop.
The 103-time race winner was passed by the Mexican who, upon trying to get past Leclerc, ran wide at the Vale Chicane, allowing Hamilton to swoop back past and into second.
Perez instantly got back ahead of Hamilton, and Leclerc capitalised by going round the outside at Turn Four, only for the Mercedes to get back ahead at Luffield.
As they approached Copse, fans were given flashbacks of last year when Hamilton and Verstappen came to blows at Turn Nine, sending the reigning champion into the wall, but Leclerc executed a phenomenal move around the outside to reclaim third.
Eventually, the 37-year-old made his way back through, and he claimed his third podium finish of the season as Sainz won ahead of Perez, with Leclerc in fourth.
Had it not been for a litany of circumstances, Hamilton believed he "definitely" could have won the race on Sunday.
"For a while, it was feeling on, I mean just a bunch of things kind of went against us a little bit, just the start, we got up to third, and then they put us back to fifth," he told Sky Sports.
"Then I lost the ground to Lando so I spent a bunch of laps trying to get past him.
"Then the gap was like five/six seconds to catch the Ferraris, but I was doing good times and catching them up.
"I had a really good long stint and I really thought 'yeah, maybe we could fight for the win here,' but unfortunately the gaps were getting too big.
"And the pit stop was not very quick… and at the end just the warmup, [I] struggled with the warmup.
"So then I lost out to two cars and it was tough, it was so tough today."
He then fired a shot at Verstappen when speaking about the side-by-side action with Leclerc at Copse.
"Charles did a great job," stated Hamilton.
"What a great battle, very sensible driver – clearly a lot different to what I experienced last year.
"Copse for example, two of us went through there no problem, but what a battle!
READ: Watch: Shocking footage of protestors storming 2022 British GP as cars drive by
"We had to have the tyre deficit in order to get past him but yeah, really, really, amazing weekend."
Verstappen would finish seventh after holding off Haas' Mick Schumacher at the end, with the young German scoring his first-ever points in the pinnacle of motorsport.