Lando Norris once again excelled in qualifying, as the British driver sealed a sixth place start for his home race.
The McLaren F1 driver performed brilliantly in wet conditions at the Silverstone International Circuit, with Norris giving himself a great chance of scoring big points in front of his home supporters.
Norris has looked strong in both wet and dry conditions, filling the Brit with confidence that he can look forward to a strong race.
The 22-year-old spoke to Sky Sports F1 after Saturday's treacherous session, where the Quadrant founder explained who he thinks he'll be battling with over the 52 laps.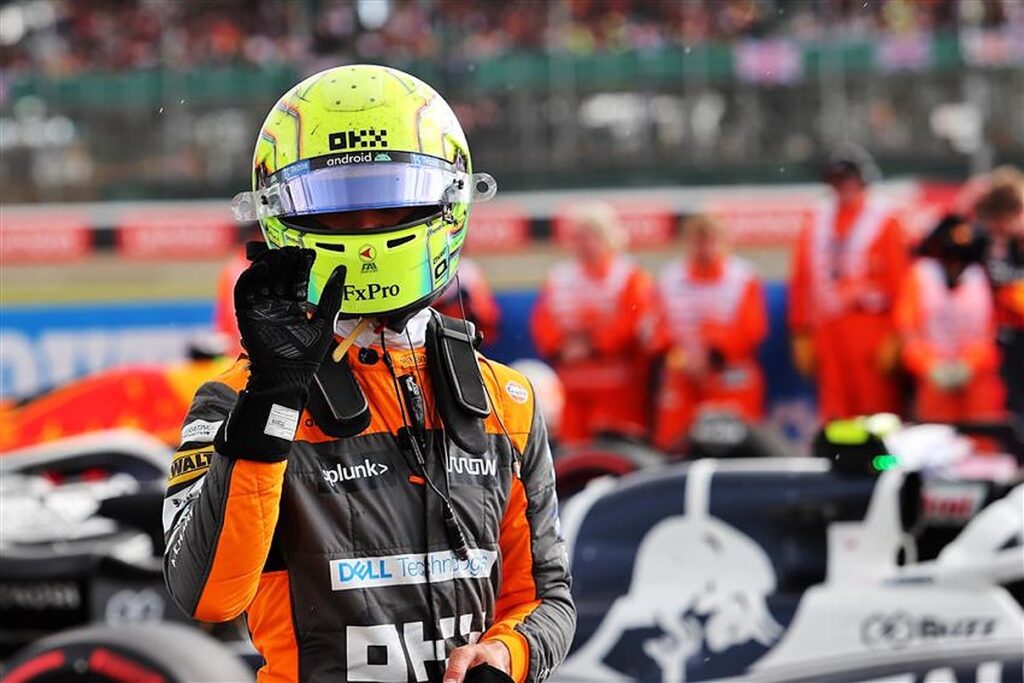 READ: 'It won't be an easy choice': Zhou has given Alfa Romeo a 'luxury problem'
"We've been in a decent place all weekend, which is a little bit surprising because I think we're the only team to not bring really any upgrades and a lot of people have brought big things," said Norris.
"So to be in that position is very good for us.
"To try and hang on is going to be the question for tomorrow. I'm expecting George [Russell] to be coming past me quite quickly.
"But our race is with Fernando [Alonso], Zhou [Guanyu], maybe not so much the Williams. Who will I fight? I think it will be a good one with Fernando. I think that's going to be my main target tomorrow is probably Fernando.
Article continues below
"George, I'll probably just wave him through, make his life a little bit easier, but the rest will be a good fight."
Norris revealed that he was "very satisfied" to see that he'd out-qualified one of the Mercedes F1 Team drivers, who both looked faster than the McLaren driver during the weekend.
"Very satisfied, to be ahead of one Mercedes as well, a car which is a lot quicker than us, and to not be far off Hamilton," said Norris.
"I think he improved on the final lap and I made a couple of mistakes, so not the best of jobs by me, but good enough and I'm very happy with that performance."
The conditions on track varied with each minute that passed; the rains intensity appeared to weaken and strengthen at any given moment, meaning that Norris' team had to keep the Brit constantly informed of what the elements were doing.
The British driver was full of praise for how his team kept him informed during qualifying, with the changing conditions affecting where Norris positioned his car and, crucially, where he braked.
"Just there's a few corners where it's like if you don't have the right angle with the right revs and speed and everything, you just aquaplane, you hit the pedals slightly wrong is a good three four tenths gone immediately which is what I did on my final lap.
"So tough especially because the conditions are getting better and better, through the whole qualifying, you need to kind of save the tyres in the beginning to be able to push at the end, which is never an easy thing to do to always kind of save everything for those last few laps, but I did a good job and I felt the team did a good job with giving me the correct information."
On the other side of the British team's garage, it was a difficult Saturday for Daniel Ricciardo.
The Australian qualified 14th for the British GP, eight places below his team-mate.
The Honey Badger appeared well-off the pace both in Q1 and Q2, resulting in his early-exit.
The Aussie was one of a number of drivers to be caught out in Q2, where the rain suddenly intensified after everyone had completed their first flying laps.
This saw Q2 decided with over half of the session remaining, with the heavier rain resulting in an increased lap-time.
Ricciardo is hopeful that he can "pick it up" during the race, after what was another woeful Saturday for the 33-year-old.
"I don't want to be 14th, so I think it was just one of those ones where you needed to get it in I think in the first two laps," he said.
"I don't think in the first lap, it was still quite a bit wetter, but then I think the second lap was the one because then it rained a lot. Well, it's hard to see spray or rain, but the track got a lot wetter so it definitely rained in the second sector, so that dry line disappeared.
"And the lap that let's say was meant to be the one, I remember going wide or off and let's say lost the lap, so yeah, that was the one that it needed to be in the end. Obviously frustrated with that. But it's all good. We'll pick it up tomorrow."