Lewis Hamilton took full responsibility for an opening lap collision with his teammate George Russell in the Qatar Grand Prix, while Max Verstappen secured his 14th grand prix victory of the season.
Newly crowned world champion Verstappen triumphed over the McLaren duo of Oscar Piastri and Lando Norris, who secured second and third places, respectively.
Mercedes had high expectations entering the race, with George Russell starting from second on the grid and Lewis Hamilton in third.
Both drivers got off to a promising start, eyeing an opportunity to challenge Verstappen for the lead in the early corners of the race.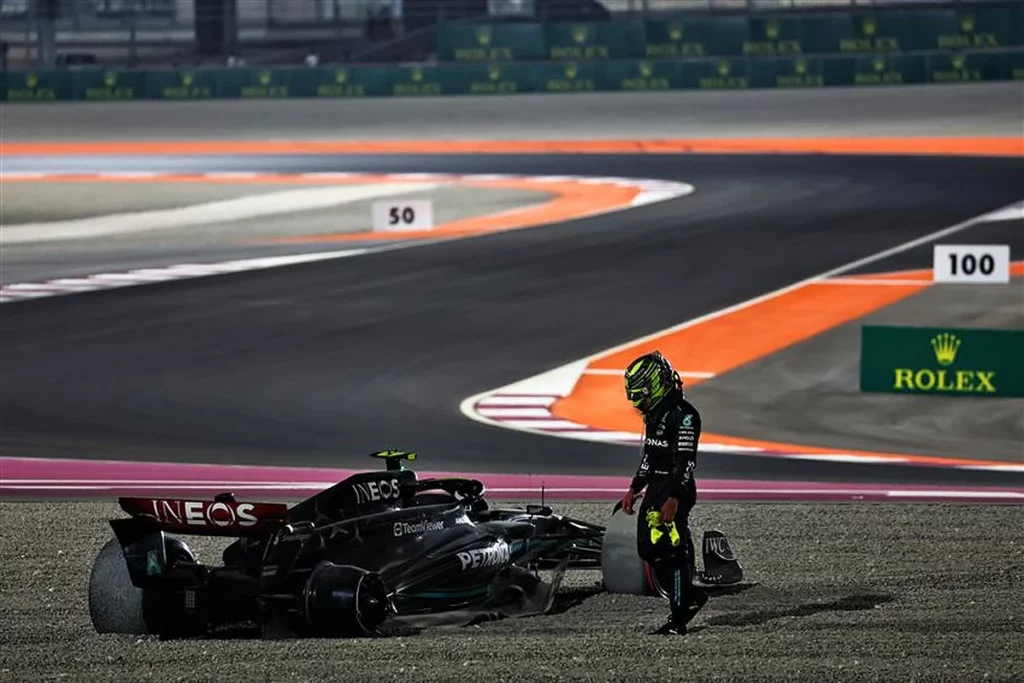 Want to work in Formula 1? Browse the latest F1 job vacancies
However, disaster struck as Hamilton attempted to pass his teammate on the outside, resulting in a collision that dislodged Russell's front wheel and sent Hamilton into the gravel.
Initially, Hamilton voiced his frustration over the team radio, blaming Russell for the incident, saying, "I got taken out by my own teammate."
Nevertheless, as the race continued, Hamilton took a more composed stance when speaking to the media, accepting responsibility, and expressing remorse, stating, "I just feel really sorry for my team."
Russell, who also suffered during the collision and required a pit stop to change his front wing, voiced his frustration to his team, referencing a similar incident in the previous race in Japan, where he was pushed off the track by Hamilton.
Article continues below
"What the hell? Guys, c'mon," he said.
"Two races in a row," exclaimed Russell over the radio, adding, "Lost for words, honestly.
"I've just seen the replays on the TV screen.
"I couldn't do anything, totally sandwiched."
Despite the early setback, Russell displayed remarkable resilience, weaving his way through the field to secure a commendable fourth place finish.
In a surprising turn of events, Australian rookie Oscar Piastri achieved his best result in a Formula 1 grand prix, finishing second in Qatar.
Piastri had claimed his first F1 victory the day prior by winning the sprint race.
After the Mercedes drivers' collision, Piastri climbed to second place and managed his race effectively, making more pit stops than usual due to concerns about tire degradation caused by track kerbs.
READ: Lewis Hamilton controversially disputes Lando Norris penalty
His teammate, Lando Norris, was in pursuit during the closing laps but was instructed by the McLaren team to hold position and not challenge Piastri.
Piastri expressed his satisfaction with the race, stating, "Really impressive pace, definitely the hardest race I've ever had in my life."
The result marked McLaren's consecutive double podium finish, following their second and third-place finish in Japan, and brought them within 11 points of Aston Martin in the battle for fourth place in the constructors' championship.