Over the years, Sir Lewis Hamilton's dog, Roscoe, has become quite the celebrity as he serves as the seven-time champion's right-hand man.
His Instagram account, RoscoeLovesCoco, dedicated to Roscoe and his brother Coco, who sadly passed away in 2020, has 254,000 followers on Instagram, and he is a fan favourite in Formula 1.
He can often be seen following the 103-time race winner around the paddock on race weekends, and he constantly attracts attention from drivers, team members, fans and reporters as he makes his way through the paddock.
In Silverstone, the bulldog was let loose in the paddock as he sat in classic cars, received a hell of an ovation when he visited the fan zone at Luffield, and had a tug of war with Haas driver Mick Schumacher.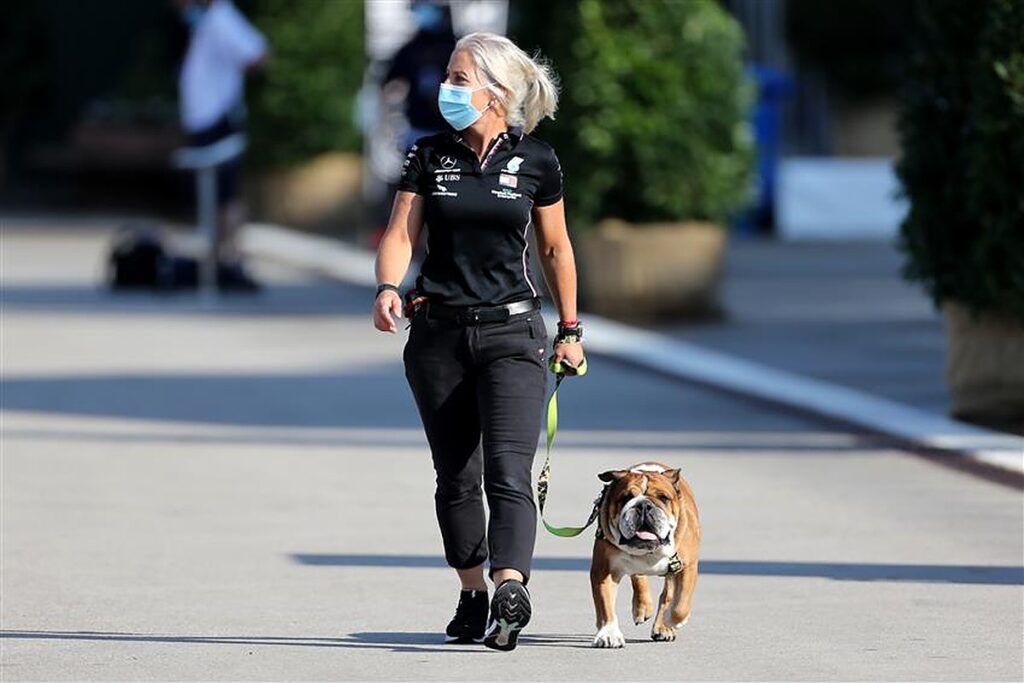 READ: Major Mercedes upgrade gives Lewis Hamilton a shot at fighting for 2022 championship
Hamilton stuck a Go-Pro on Roscoe as he walked around the paddock, and he walked through the Mercedes hospitality, said hi to the mechanics and engineers, before venturing out and receiving no shortage of attention from fans with paddock passes.
Super Little Guys is an artist who photoshops people to look super small while everything around them looks the same size, and they edited Hamilton to look the same size as Roscoe a few weeks back, so everyone is getting involved with the affection towards the dog.
Roscoe was also pictured sat with Peter Bonnington, Hamilton's race engineer, in Mercedes' engineering room, as the pair got together and masterminded what turned out to be a superb weekend for Hamilton.
READ: Lewis Hamilton has good news for fans as Mercedes look to hunt Ferrari and Red Bull down in Austria
Article continues below
The 37-year-old qualified fifth in a wet session on Saturday, before producing a fine display to end the race third behind Carlos Sainz and Sergio Perez – it might even have been a win had it not been for a late Safety Car.
The Silver Arrows have been trying hard all season to make their erratic W13 behave and, as it turns out, all they needed was the genius of Roscoe to start inching closer to the pace of Ferrari and Red Bull.