Formula 1 is incredibly important to Toto Wolff, with the Austrian being a vital part of Mercedes; however, for him there are more valuable things in life than racing, such as family.
The Mercedes team principal, who owns a 33-percent share of the Silver Arrows, has done incredibly well to get to where he is in life, with the Austrian having dealt with a challenging childhood.
He is an imperious winner; the Mercedes boss is often seen on camera with a fire in his eyes, especially when the likes of Red Bull are dominating proceedings.
Whether the Germans return to winning ways in 2023 or not, Wolff will go down as one of the most successful team principals in the history of Formula 1, and it's safe to say, he deserves it.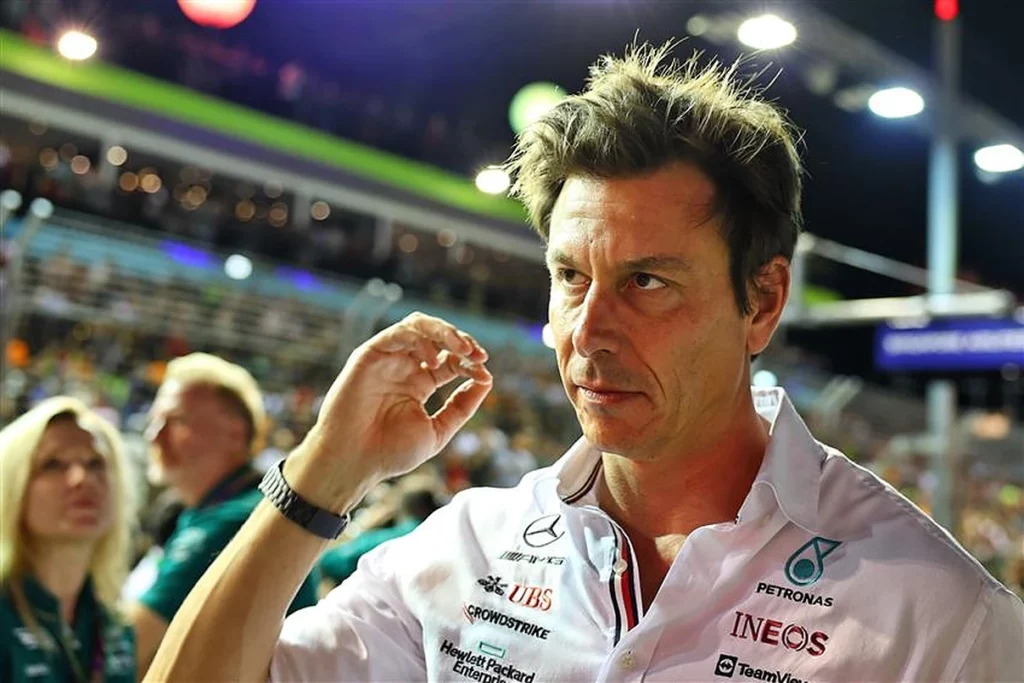 READ: Sebastian Vettel reveals one thing he would change about Ferrari career
The Austrian knows who to thank for helping him get to where he is today: his family.
Family is an enormous thing for Wolff, with the Austrian's having worked tirelessly to give him the best education possible, at a "French private school in Vienna".
Wolff's father tragically died from cancer when he was just 15 years old, something which put understandable financial strain on his mother.
Wolff's father was a Romanian entrepreneur whilst his Polish mother was an anaesthesiologist, who continued to work relentlessly to keep the family "alive".
Article continues below
The Mercedes boss was put into a school where he didn't fit the "affluent environment", with the Austrian and his sister having been sent home once due to their fees having not been paid.
He recognises that the school his parents and grandfather sent him to was "advantageous" for his career, with the main Mercedes man being able to speak six languages.
Wolff recently opened up on his childhood and the loss of his father, with most having been unaware of the immense challenges he faced growing up.
"I think the key moment was the tragic loss of my father from brain cancer when I was 15," he told The Times.
"He was terminally ill for 10 years, so basically all throughout my childhood. And the financial hardship was related to this. That had the biggest impact on me as a person.
"My parents, with the help of my grandfather, put me in the French private school in Vienna, which was advantageous for my career as it helped my language. But the obstacle was that I went to school in an affluent environment without being a part of it.
"Day-to-day life was about my mother working hard as a doctor just to afford for us to stay at the school. She might have not been good at motherhood, but she kept us alive; she kept us going.
"But it meant that certain things happened to me and my sister. I remember that we were taken out of class when I was 14 because the school fees were not paid, so we were sent home.
"How do you explain in the tram back home why you had to leave after lunch-break? It was quite a humiliating experience."
Since his challenging childhood, Wolff has gone on to incredible things in motorsport, with the Mercedes boss admitting himself he 'loves' his team.
However, there is one thing he loves more than racing: his family.
READ: Jackie Stewart wants Lando Norris or George Russell to win a championship
Wolff is, of course, married to ex-racing driver and former Venturi Formula E team principal Susie Wolff, whom he hails as the "perfect partner".
"I have great moments in F1. I love the team, I love the challenge. But what I really love is my family," he added.
"I have three children, who are 21, 18 and five years old. Having the family together is what gives me greatest enjoyment. And with my wife I have found the perfect partner."