It was mixed-emotions for Scuderia Ferrari at the Austrian Grand Prix, as Charles Leclerc claimed his first victory since the Australian Grand Prix but Carlos Sainz suffered yet another dramatic power unit (PU) failure.
The Italian team were looking highly likely for a 1-2 finish, with Sainz having been right on the back of second-place Max Verstappen at the time of his failure.
The failure itself was highly dramatic, with the Spaniard's F1-75 quickly going up in flames, including, an explosion which ripped a hole in Sainz's right side-pod.
Sainz was visibly distraught by the result, having been seen slumped on the grass bankings, looking on in disbelief.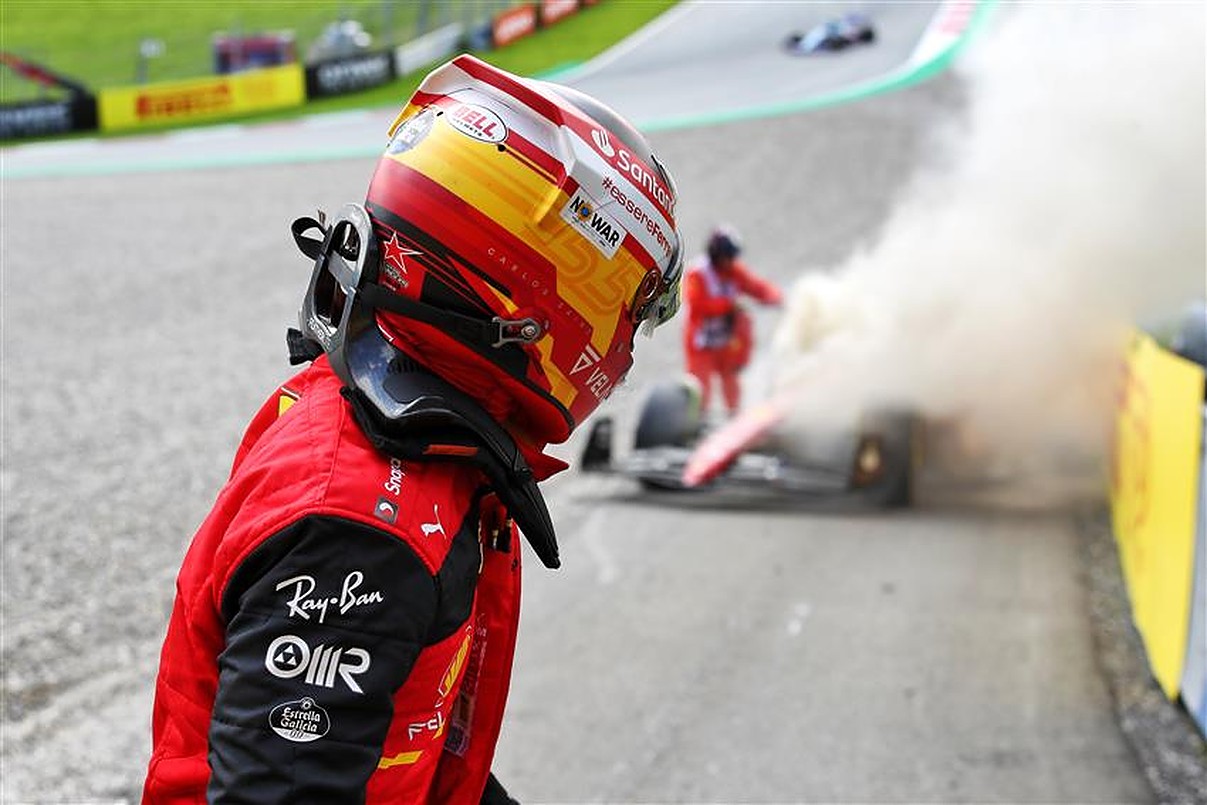 READ: Michael Masi neglects to mention Lewis Hamilton, Abu Dhabi GP controversy as he breaks silence
The team too looked on in agony, with the blow-up being further proof that the Scuderia are still not on top of their horrendous PU reliability.
Team principal Mattia Binotto, explained after the race that the team believe Sainz suffered from the same PU problem which saw Leclerc retire from the lead at the Azerbaijan Grand Prix.
The Ferrari boss informed reporters that the team remain "concerned", but that they are working "very hard" to finally get on top of it.
"It's certainly a concern, but the people back at Maranello are working very hard to fix them, which is not solved yet," Binotto said.
Article continues below
"Obviously if you look at what happened to Carlos, the problem has not been solved yet. But we have new elements and I know how strong they are working, how good they are, and I can count on them and that issue will be addressed very soon, or as soon as possible."
Ferrari have incredibly had four PU failures already this season, in just eleven races.
It's seen their title charge halt, despite their incredible start to the season where they appeared unbeatable.
Leclerc has retired twice from the race lead, this season, in Spain and Azerbaijan, due to a PU failure.
Two nearly became three for the Monegasque, who reported to the team that he was suffering from throttle problems in the closing stages of the race at the Red Bull Ring.
Binotto stressed after the race that they were yet to precisely decipher what caused Sainz's DNF.
"On the initial feedback It's more a mechanical one we got, but I cannot give you more details than that."
Leclerc now sits 38 points behind Verstappen, with Ferrari 56 points behind Red Bull Racing.