Ted Kravitz has responded to Christian Horner's criticism of Carlos Sainz's defensive driving at the Italian Grand Prix, defending Sainz's actions and emphasising that it's precisely what the Ferrari driver is paid to do.
During the race at Monza, Red Bull expressed their discontent with Sainz's defensive manoeuvres, especially against Max Verstappen and Sergio Perez.
Sainz pushed his limits to fend off the two Red Bull drivers but ultimately lost both battles, settling for third place at Ferrari's home race.
Verstappen secured his 10th consecutive race win, and Perez added to Red Bull's tally with a second-place finish.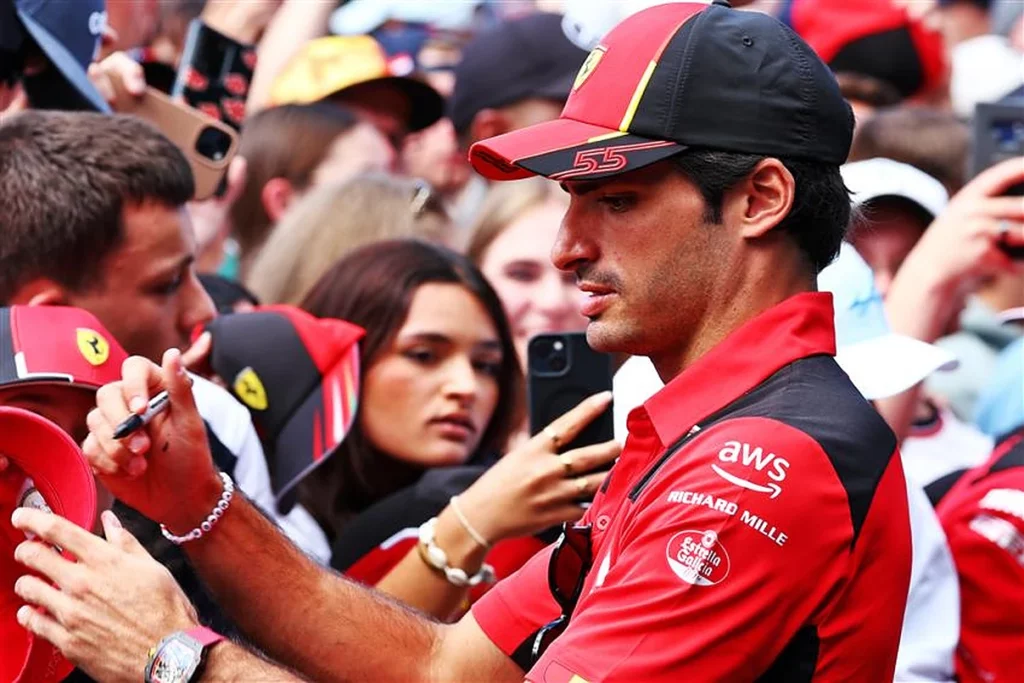 Want to work in Formula 1? Browse the latest F1 job vacancies
Despite the victory, Horner continued to criticise Sainz's tactics. He stated, "Carlos was very robust, he was a little late at times, he moved a bit."
However, he also acknowledged the context, saying, "But he's driving a Ferrari, at Monza, he's going to defend for his life."
Ted Kravitz, a pit lane reporter, defended Sainz's actions, addressing Horner's comments in his post-race Ted's Notebook.
He remarked, "I thought that comment from Christian Horner when he said Sainz was defending as if his life depended on it…
Article continues below
"If Horner meant that in a sort of antsy way, well that's not cool."
Kravitz emphasised that Sainz was entirely justified in defending vigorously against Verstappen, Perez, and other competitors, stating, "He had absolutely every right to defend from Max Verstappen, Sergio Perez, and everybody else who passed him or tried to pass him today as if his life depended on it because that's what they're paid for."
Carlos Sainz's performance at the Italian Grand Prix saw him lead the race for the first 14 laps, starting from pole position.
Verstappen relentlessly pursued him, attempting to pass at the first chicane.
After a prolonged wheel-to-wheel battle through Curva Grande, Verstappen finally overtook Sainz at the Della Roggia chicane.
Sergio Perez subsequently secured a Red Bull 1-2 with a late-race pass.
Despite the intense competition, Sainz successfully held off his Ferrari teammate, Charles Leclerc, to clinch his first podium finish of the season at Ferrari's home event.
Reflecting on Ferrari's efforts, Kravitz noted, "Ferrari threw everything at this race," including new power units and a special Monza wing.
However, they were unable to secure a victory and instead had to contend with an internal battle.
Kravitz praised Sainz for his podium finish, stating, "Carlos Sainz brilliantly finished on the podium. He did deserve it, and he wasn't going to give it up."
Regarding the rivalry between Ferrari teammates in the closing laps of the race, he summarised, "They tried, they came, they fought amongst each other, they almost crashed, but they didn't, and they finished third and fourth did Ferrari.
"Charles Leclerc was not going to back down."
Max Verstappen's victory at Monza marked his 10th consecutive triumph, establishing a new record for the most successive Formula 1 wins in a season.
This achievement broke the previous record set by Sebastian Vettel in 2013 during his tenure with Red Bull.
READ: MotoGP rider run over in horrific accident
Kravitz acknowledged the significance of Verstappen's feat, suggesting that Red Bull recognised the urgency of the moment.
He remarked, "They made history," emphasising the pressure Verstappen faced to secure his 10th consecutive win.
With a substantial lead of 145 points in the Drivers' standings, Verstappen is poised to extend his record to 11 consecutive wins at the upcoming Singapore Grand Prix.