Red Bull's Max Verstappen has conceded that he was relying on Haas' Mick Schumacher to back out in the closing stages of the British Grand Prix.
Verstappen had endured a difficult day in Silverstone; he was reverted to P2 doe to a red flag having taken the lead off the start from Carlos Sainz, before he gained the lead once more when the Spaniard ran wide at Chapel.
The Dutchman then ran over a piece of AlphaTauri, which dug into his floor like a "shark," in the words of Christian Horner, causing a horrible lack of balance and downforce.
This pushed the reigning champion back down to seventh, and he spent the final couple of laps battling with Schumacher.
The young German was pushed off at Brooklands on the final lap, before the pair made slight contact on their way into the Vale Chicane, with Verstappen eventually keeping hold of the position.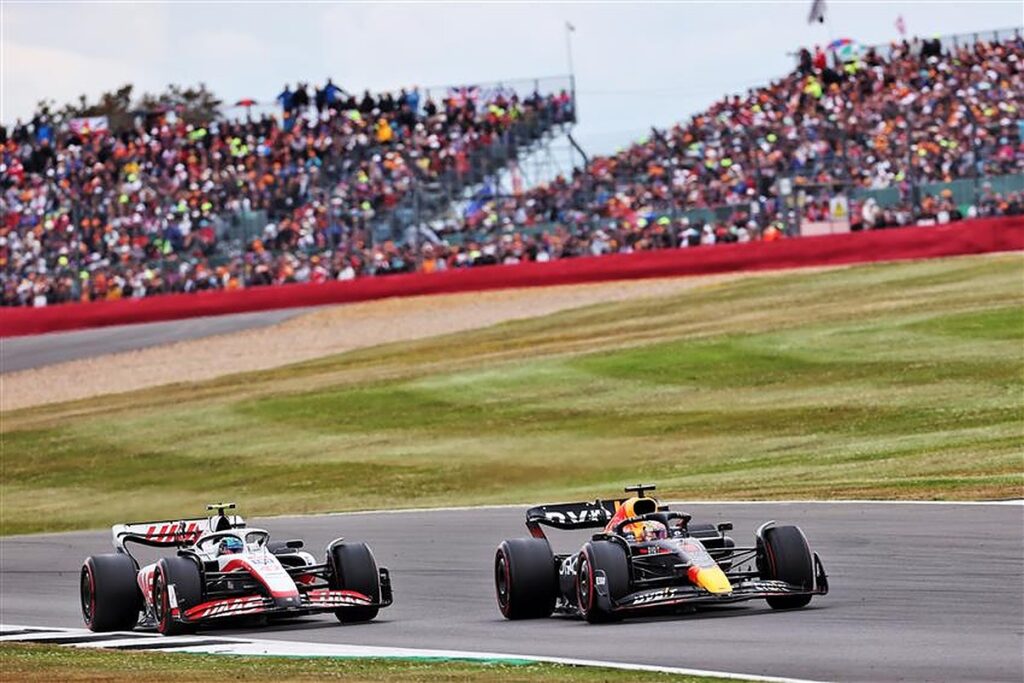 READ: Watch: Fans flee as Zhou's upside-down car horrifically collides with fencing
While the 24-year-old was not a particular fan of fighting for seventh, he enjoyed the wheel-to-wheel action with the Haas driver.
"My car was limping a bit," Verstappen told RacingNews365.com.
"But I knew that also Mick was really trying to go for seventh, and it was fun.
Article continues below
"Of course, I was not enjoying where I was, but you can also appreciate the fight you're having with someone else.
"I think it was actually quite a good battle."
The pair shared a joke about their dual after the chequered flag.
READ: Binotto explains why Ferrari left Leclerc vulnerable to Hamilton and Perez
"I said to him, 'I knew you were fighting for the points'. He said, 'Yeah, I know, but I really wanted seventh'. I said, 'I know you did, I saw that!'" joked Verstappen.
"It was a good battle."
Verstappen explained his thought process while robustly defending P7 as he took six points away from a difficult afternoon
"I was like, 'well, he has to now back off, otherwise we're both out,'" he added.
"Luckily, he's smart enough to."
Verstappen's lead over team-mate Sergio Perez in the Drivers' Championship now stands at 34 points after the Mexican finished second behind Sainz, who claimed his maiden victory.
Leclerc ended up fourth behind Sir Lewis Hamilton after a questionable late strategy call by Ferrari, with Fernando Alonso and Lando Norris ending up in front of Verstappen.
Schumacher finally took the first points of his career as Sebastian Vettel and Kevin Magnussen rounded off the top 10.