At the Qatar Grand Prix, emotions ran high as Lewis Hamilton and George Russell of the Mercedes team reconciled after a dramatic crash that marred the start of their race.
Hamilton's race took a disastrous turn moments after it began when he collided with Russell while attempting to overtake on the outside of the first corner.
This unfortunate incident resulted in the loss of one of Hamilton's wheels and sent him spinning onto the gravel.
Russell also suffered damage to his front wing, necessitating a pit stop at the end of the first lap.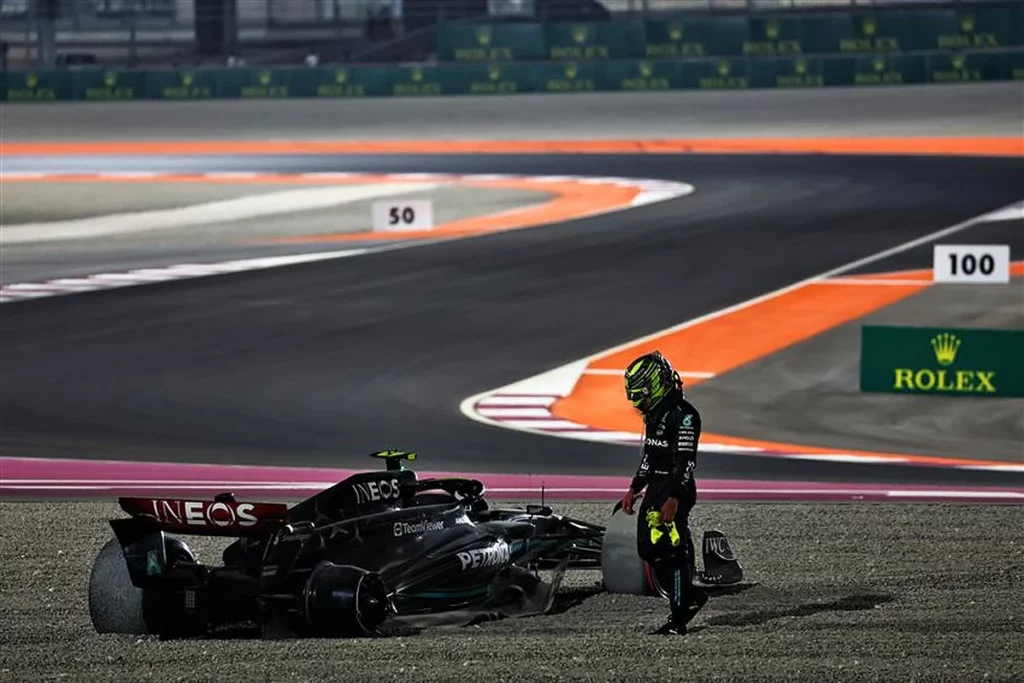 Want to work in Formula 1? Browse the latest F1 job vacancies
Initially, both drivers were quick to assign blame for the crash, with Hamilton audibly frustrated over the team radio, exclaiming, "I got taken out by my own team-mate."
Russell, on the other hand, expressed his frustration, saying, "F***ing lost for words, honestly.
"Just seen the replays on the TV screen.
"I couldn't do anything, totally sandwiched."
Article continues below
However, as the dust settled, a different atmosphere emerged within the Mercedes team.
Lewis Hamilton, acknowledging the remarkable performance George Russell put on to finish fourth, decided to take responsibility for the crash.
Mercedes even shared a clip on social media capturing the first post-race exchange between Hamilton and Russell.
In the clip, Hamilton approaches Russell and offers an apology, saying, "Sorry about today, it wasn't your fault. Great job."
The two drivers share a brief but meaningful hug, exchanging pats on the shoulder, and Russell finishes the interaction with a thumbs up.
George Russell, reflecting on the incident, emphasised that the collision was unintentional and not the result of any ill will.
He explained, "The incident at turn one was absolutely not intentional from either myself or Lewis.
"Visibility is so difficult in these cars and especially when you're racing.
"There are big blind spots, and we both have so much respect for one another.
"We will make sure we come out of this stronger."
Speaking to the press after the race, Lewis Hamilton expressed his regret and took full responsibility, saying, "I'm really sorry to my team.
"The opportunity was there to get some good points.
"In the heat of the moment, I didn't really understand what had happened.
"I obviously felt the tap from behind, but I don't think George had anywhere to go.
"It's just one of those really unfortunate situations.
READ: Lance Stroll warned his trainer is plotting 'revenge'
"I'm happy to take responsibility. Everyone is working incredibly hard, so it's massively gutting to have a result like this.
"You're preparing and putting the time in. It's very rare that this happens for me.
"I hope George is able to get back into the points today, I'll be supporting him."