Lando Norris has slammed one of the FIA's newest rules as "stupid" following Saturday's Sprint Shootout at the Brazilian Grand Prix, after he was slapped with a reprimand.
Norris was investigated after the shootout for exceeding the maximum lap-time, resulting in a trip to the stewards where he was informed of his reprimand.
As it was just a reprimand, Norris kept his pole position for the sprint, which marked the first time he'd started in P1 since the 2021 Russian Grand Prix.
The maximum lap-time rule has recently been brought in by race director Niels Wittich to try and stop cars from driving excessively slowly on their out-lap, whilst trying to find a gap.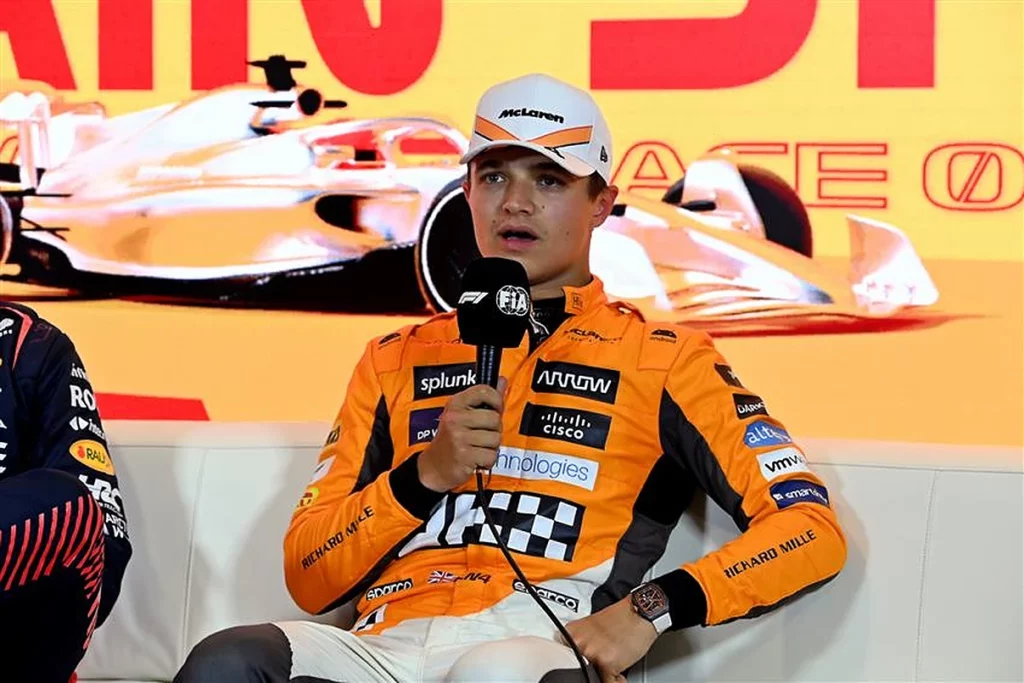 Want to work in Formula 1? Browse the latest F1 job vacancies
To get around this, some drivers have started to stop in the pit-lane, something both Max Verstappen and George Russell did at the Mexican Grand Prix.
The FIA have recognised this tactic and informed the drivers ahead of this weekend that if they want to reduce their speed in the pit-exit, then they must pull to the left-hand side.
This has caused some problems still though, with Norris having noted after the shootout that he only exceeded the maximum lap-time as he was forced to "back off", due to being alongside another car as they exited the pits.
Norris isn't a fan of the new pit-lane exit rule due to the fact that it's when a driver exits the pits that their out-lap is timed, putting them at a huge disadvantage if they are held up by another driver at the pit-exit.
Article continues below
"I tried to go but there were two cars ahead of me," Norris told Sky Sports F1.
READ: Oscar Piastri's mum responds to Fernando Alonso being her son's dad
"It's just a silly rule. Two cars came out of the pits at a similar time when we crossed the [Safety Car] line so one has to back off. Or else you will race and it will be silly. When one backed off I had to back off. This rule is stupid in my eyes."
It ended up having little effect on his race as he finished the sprint in second, after being overtaken by Verstappen at the first corner.
Norris was also overtaken by Russell on the opening lap, before later gaining the position back.