Sergio Perez has put pen to paper on a new contract that keeps him at Red Bull until at least the end of 2024, and it could mean that Red Bull might come back to haunt Daniel Ricciardo.
After leaving Red Bull in 2018 having won seven races with the Milton Keynes-based side, Ricciardo managed just two podiums in two seasons with a struggling Renault team, and he moved to McLaren last year to partner Lando Norris.
However, the Australian has been out-qualified 21 times in 29 races by the Briton, and has scored points on 15 occasions, while Norris has stood on the podium five times during their spell as team-mates thus far.
READ: McLaren boss calls on Ricciardo to push harder to be closer to Norris
Ricciardo's victory in Monza last year papered over some of the cracks, but a horrible time in all of the last four races in Imola, Miami, Spain and Monaco have seen him cross the finish line outside of the points.
Following the Spanish Grand Prix, CEO Zak Brown put pressure on the 32-year-old to improve his performances.
"We obviously would like to see Daniel much closer to Lando and have a good inter-team battle," he told Sky Sports.
"Daniel is just not comfortable yet with the car. We are trying everything we can, again it was a disappointing weekend."
The American was not done there, and he stated ahead of the Monaco Grand Prix that there are "mechanisms" in the contract that keeps Ricciardo at the team until the end of next year that could see them terminate it early.
Article continues below
As for a possible replacement, McLaren are certainly not short of options. Seven-time IndyCar race winner Colton Herta is one of the most promising young talents in motorsport right now, while Patricio O'Ward, who has taken three wins in the all American series, is also on the cards as a McLaren Arrow SP driver.
Furthermore, now that Perez has extended with Red Bull, AlphaTauri's Pierre Gasly will not have a place at Red Bull in 2024, and he has made it clear that this is what he wants when his current deal with the Italian team runs out at the end of 2023.
But when compared with the Frenchman's enormously disappointing half season alongside Max Verstappen in 2019, Perez's two wins and nine podiums since his arrival last year made his signature an obvious decision.
Gasly previously remarked that it "makes sense" for the Austrian side to keep Perez given his performances, but he is keen to obtain what he is adamant he deserves – a seat with a top team.
"I see Charles in a Ferrari, I see Max in the Red Bull, George in the Mercedes, Lando in the McLaren – I've been fighting with these guys all my career," explained the 25-year-old.
READ: 'We don't understand': Ferrari criticise FIA for not penalising Perez and Verstappen
"I know that's where I belong and I want to get my chance to be in this position as well."
Red Bull is now very unlikely to be his destination, but he may still have an option if McLaren decide to show an interest in the Frenchman to replace Ricciardo should his performances fail to improve.
The fact that Ricciardo has struggled so much means that there is ever more interest swarming his seat with the Woking-based side, and Gasly having nowhere to go as a result of Perez's new deal will intensify that pressure.
Another of Ricciardo's threats comes from much closer to home. Alpine reserve Oscar Piastri is desperate to find a seat for next year, and Renault CEO Luca de Meo has stated that he wants to find "an ideal solution" that works for him as well as mainstay drivers Fernando Alonso and Esteban Ocon.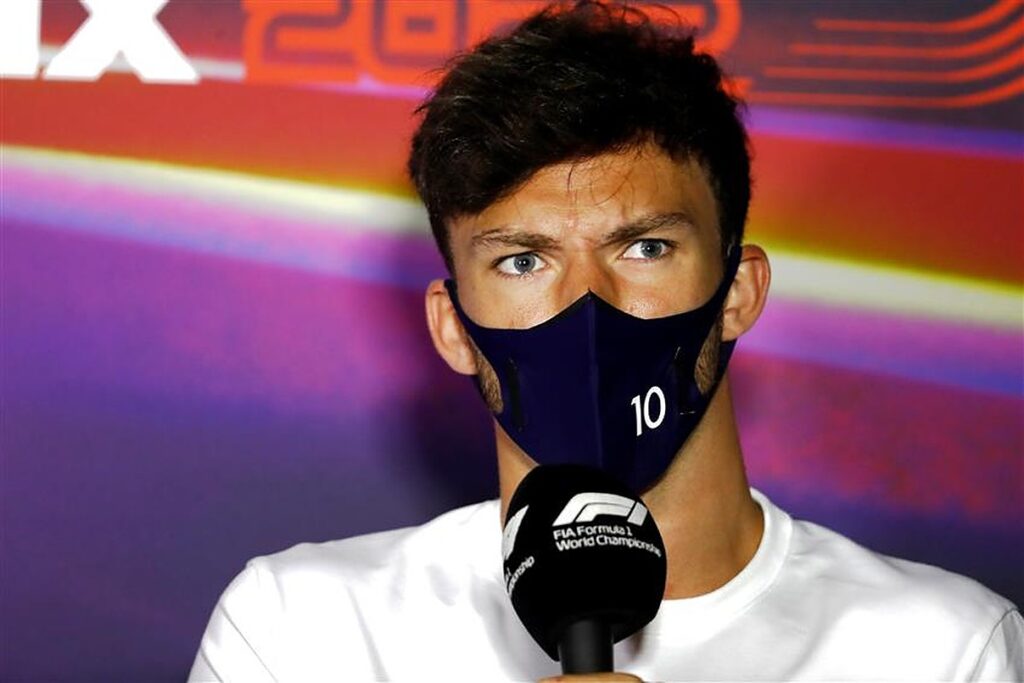 There is speculation that the young Australian will end up at Williams to replace Nicholas Latifi ahead of the 2023 season, but the French side would surely prefer to put Piastri in a more competitive car, making McLaren an ideal choice.
It is fairly unlikely that Ricciardo will be dropped before next season, but McLaren have been known to take a ruthless approach to their drivers, as Kevin Magnussen and indeed Perez himself can testify, and there is no shortage of interest from drivers who would love to take his place.
As a result of Red Bull extending the Mexican for another two seasons, Gasly will now surely be one of the names in the hat for a McLaren drive in the near future.