Formula 1 CEO, Stefano Domenicali, has dismissed the notion that the sport was adversely affected by the controversial end to the 2021 season.
Max Verstappen and Sir Lewis Hamilton entered the final round of a pulsating year level on points, and it was the Dutchman that would start the race on pole.
However, Hamilton got ahead off the start and, despite the intervention of Verstappen's team-mate, Sergio Perez, it looked as though the seven-time champion was about to add an eighth, as he held a dominant lead over the 24-year-old.
But the Safety Car was deployed late on after Nicholas Latifi crashed, and race director Michael Masi initially ruled that none of the lapped cars could be allowed through due to time constraints.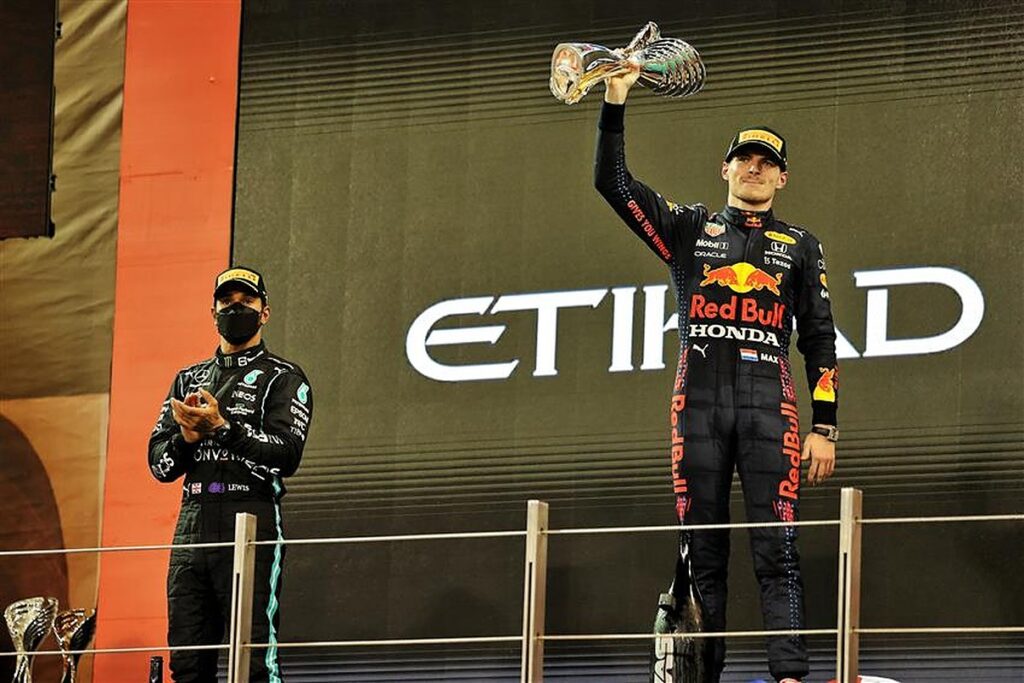 READ: Lewis Hamilton reveals how Starbucks chairwoman and Star Wars director stopped him from retiring
The Australian changed his mind on the penultimate lap, and allowed only five of them to get their lap back, causing confusion and controversy.
Verstappen took full advantage, passing Hamilton on the very last lap to take the victory and his maiden championship, but fans were outraged.
Some said they would never watch a race again; former driver Stefan Johansson revealed that there were prominent motorsport figures that told him they had no interest in tuning in this year.
But the figures would suggest that, once the storm blew over, fans had calmed down and many of them came to terms with the fact that 2021 was done; it was time to look ahead to this year.
Article continues below
Television viewing figures have gone up 4.9 percent worldwide on last year, while the British and Australian Grand Prix both topped their attendance records.
Therefore, in Domenicali's eyes, there has been no damage done to the sport's image, and he believes this is down to the action the FIA have taken since December.
Masi was removed from his position and replaced by a combination of Eduardo Freitas and Niels Wittich, with a virtual control room implemented to help them out, as well as the return of Herbie Blash as deputy.
"In terms of image, it's like when there is a football World Cup [final] and there is a referee that's making a mistake and there is a penalty given that is not there, but it's there," said Domenicali, quoted by Racefans.net.
"So I don't think that is a damage of the reputation, of the solidity of the championship, because that's something that can happen.
"What I see, to be honest, is that the FIA has taken seriously that fact and they want to change it and to improve the system.
"But at the end of the day, the performance of all the people involved in F1 has something related to his personal capability or personal skills or personal good decision or personal mistakes, and this is something that will be always in every sport."
The Italian also waved away any suggestion that the race was rigged in Verstappen's favour.
"What I can, because otherwise I wouldn't be in this position, I never, ever think that someone is doing something on purpose to be against someone," affirmed Domenicali.
"This is something that I cannot accept because if I would have a little doubt about it, I wouldn't be here.
"You can have mistakes, yes, 100%, you can say mistakes, teams or drivers, everyone can do it, but I don't want to judge something that could have been because of a personal vision of something that has happened as a damaged reputation for F1."
The fact that the attendance and viewing figures have not taken a hit, and the fact that more big numbers are expected in the coming races, is suggestive to Domenicali that F1 has only grown since the bizarre race eight months ago.
"If you look [at] what is the follow-up on what we are having this year, it's immense," he stated.
"So if that would be so negative, I wouldn't see the numbers of people that are coming to the races or following everywhere around the world.
"From Belgian up to the end, all the grand prix are sold out, so a lot of people have already booked the tickets to come.
"So Belgium every day will be more than 120,000 people; Zandvoort, you can imagine, the same; Monza more than 250,000 tickets sold; Singapore sold out and that's really something that is already a reserve.
"So, I really hope that we're going to have a great race and a great second part of the season."
With eight wins to his name in 2022, Verstappen leads Charles Leclerc by 80 points in the Drivers' Standings heading into round 14 in Spa this weekend, but the former Ferrari boss is still optimistic that this year's battle can go down to the wire.
"From the commercial perspective, I would love to see another season where you going to arrive at the last lap of the last race – maybe with less this confrontational point – because that would be terrific, it would be fantastic," added Domenicali.
READ: Lewis Hamilton makes retirement admission after being 'cheated' by Michael Masi
"80 points, they are a lot, but in F1, also from my previous experience, you have to say 'never say never'."
Domenicali cited his first season in charge of Ferrari in 2007, when Kimi Raikkonen overturned a deficit to beat Hamilton to the championship in the final round in Brazil.
"Remember 2007, two races to go, we were behind by 17 points and Kimi was able to win the championship in Brazil and no one was expecting that," he stated.
"I know it's a big number, but I don't see why Ferrari should [not get] back again in the fight with Red Bull.
"Red Bull is a very strong team, Mercedes will grow. But really the only thing that I can say – because I cannot comment on what because of my position, as you can understand – is that they shouldn't give up at all up to the last moment.
"Because we're going to have a lot of a surprises, I'm sure, in the second half of the season, in all dimensions. So mistakes, reliability, weather conditions, who knows?"
Red Bull lead Ferrari by 97 points in the teams' battle, with Mercedes a further 30 points back.