Carlos Sainz found himself perilously close to a collision with his former McLaren teammate, Lando Norris, at the Austin Grand Prix, eliciting a stunned reaction from the Ferrari ace.
Sainz was in the midst of a blistering hot lap, navigating the Circuit of The Americas (COTA) esses, while Norris was diligently working to bring his McLaren's tires to the optimal temperature.
The thrilling encounter reached a climactic point as the two Formula 1 stars shared the same piece of tarmac, prompting Sainz to make a hasty decision to avoid disaster.
"Oh my God, whoa," exclaimed Sainz, capturing the gravity of the situation.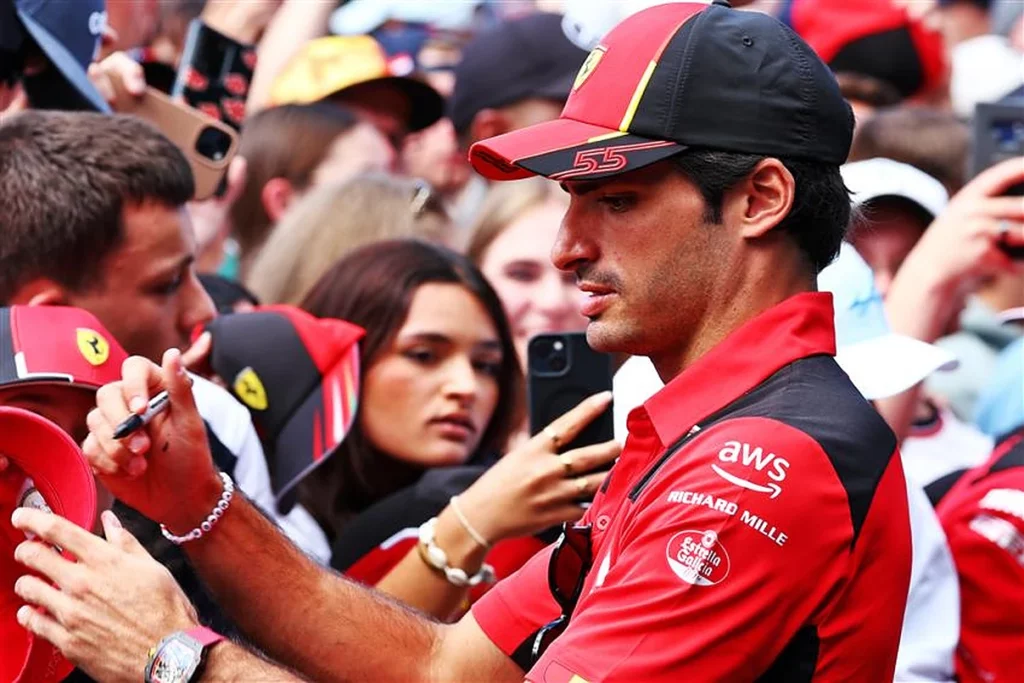 Want to work in Formula 1? Browse the latest F1 job vacancies
He continued, "Lando there. I think he didn't see me, but we nearly crashed."
The incident was a heart-pounding reminder of the exhilaration and precision demanded by the high-speed world of Formula 1.
While heated radio exchanges between drivers and their teams are not uncommon, Sainz's visceral reaction highlighted the intensity of the moment.
Sainz's journey to the Austin Grand Prix has been marred by setbacks, including his absence from the Qatar Grand Prix due to a significant fuel leak in his Ferrari.
Article continues below
Speaking to reporters in Austin, he expressed his determination to rebound from this challenging period.
"I've been trying to 'recover' from Qatar, not so much physically, because I didn't race, but mentally from not being able to take part in that race," Sainz explained.
"Which, in hindsight, actually, if there was a race to miss, it was probably Qatar. Looking back, it looked like a good one to maybe skip.
"But now in Austin, I'm ready to focus on what matters, at least trying to get hopefully back on the podium this weekend."
Ferrari's resolve to address their recent technical woes was evident, with Sainz sharing insights into their efforts to overcome issues that have plagued them.
He noted, "We've changed a lot of parts in the car to try to obviously correct the issue that affected us in Qatar.
"We are trying also to find solutions in the long-term, not only in the short-term because it's definitely something that we are not happy [about], and we've also had issues in the past."
The recurring fuel tank problem has caused a fair share of headaches for the team, but Sainz remained optimistic about the upcoming race.
"So, it's a bit of a headache that is giving us this fuel tank [problem] now and then.
"But we will try and put it back together this weekend, and, hopefully, there shouldn't be any issues anytime soon."
The Constructors' Championship race has been hotly contested, with Ferrari holding a 79-point lead over McLaren. However, McLaren has been making significant strides in recent races, narrowing the gap.
READ: Nico Rosberg sends George Russell message which will alarm Lewis Hamilton
Sainz believes his team can stay ahead as long as they steer clear of further reliability issues.
"[That] doesn't mean that they are not going to beat us.
"I think they're going to beat us in most of the races from here to the end of the season if all things align because they do have a very quick car nowadays and they look to be the only ones that can sometimes bother Red Bull, and in a track like Singapore, where maybe it's more us [who were quicker]," Sainz commented, setting the stage for a fierce battle in the races to come.