Alfa Romeo driver Zhou Guanyu has revealed what he was thinking as his car hurtled towards the barrier at the British Grand Prix last month.
There had already been a very scary crash earlier on that Sunday afternoon in Formula 2, reigniting the sausage kerb debate.
Roy Nissany pushed Dennis Hauger off onto the grass in a rude attempt to defend his position, and the Norwegian had nowhere to go as he became a passenger on the run-off.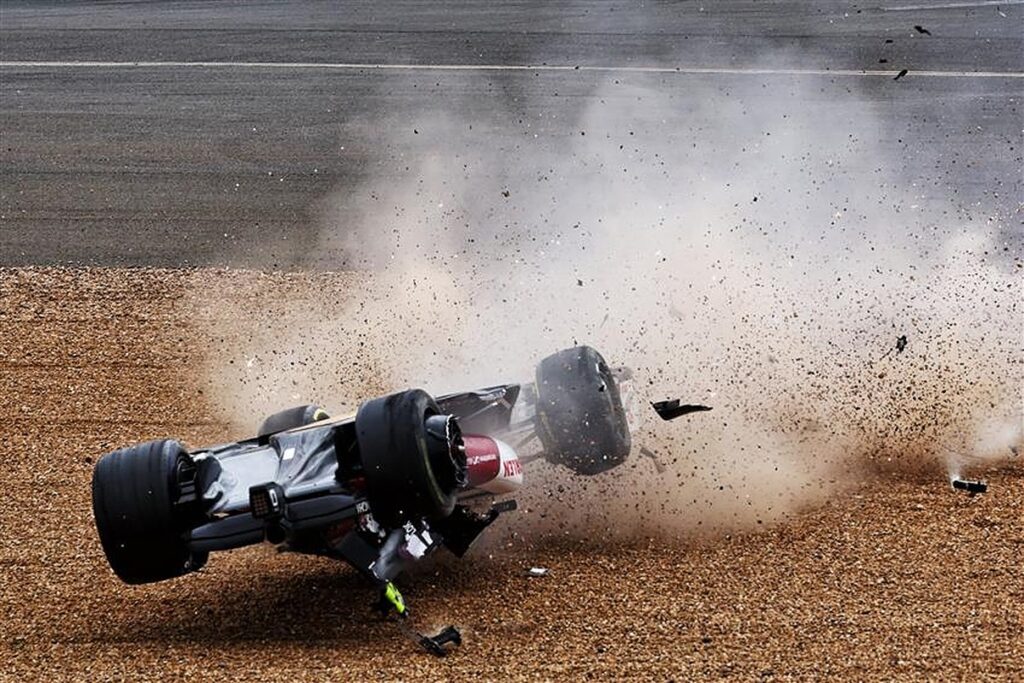 READ: Zhou Guanyu says he's happy he avoided Alpine amid Oscar Piastri saga
He was launched up into the car by the kerb at the Vale chicane and bounced off the halo of Nissany's car.
Thankfully, both drivers were okay, and Nissany was given a fine as well as points on his license for being the root cause of the incident.
Later that day, Zhou was set to get going from ninth on the grid having made Q3 for the second time in his career, and he had the Mercedes of George Russell in front of him, and the AlphaTauri behind him.
Both Zhou and Gasly got off to a good start, and Zhou was alongside the Briton, who moved across, not seeing that Gasly was in between them.
The Frenchman could do nothing as the Mercedes clattered into his front end, and he hit the side of Zhou's car, sending him upside down.
Article continues below
The young Chinese driver slid on his role hoop towards the gravel trap, and the wheel dug into the bed before flying over the barrier and into a fence.
Russell sportingly got out of his car, abandoned his chances of getting back into the race and ran over to see if Zhou was okay, and the 22-year-old was thankfully able to climb out and walk into the ambulance under his own steam.
Alex Albon, Sebastian Vettel, Esteban Ocon and Yuki Tsunoda were also involved in the scary collision, and the Thai-British driver was taken to hospital for checks.
Both drivers were unharmed, but Zhou remembers anticipating that it was not actually going to be too bad a crash when he was initially sent upside down.
"Everything happened so quickly but it wasn't a nice feeling, when I first went upside down it wasn't a big deal for me because I felt like maybe I would stop in the gravel," he told Motorsport Magazine.
"Silverstone has gravel after the tarmac – and then when I was in the gravel I was still going at a constant speed and I was like 'OK, I'm in big s*** now'.
READ: Zhou Guanyu reveals surprising fact ahead of 2022 French Grand Prix
"So basically, I released my hands from the steering wheel and I was waiting, because I was conscious I was just waiting for the last hit.
"That's not what drivers want because the last hit is the one you know could break the bones or do whatever sort of damage, so when you're just waiting for that it is probably not the nicest thing to think of.
"But once it happened I thought I was pretty OK, had no broken bones, so I was quite happy."
It was a shame for Zhou, who had been chasing his third points finish of the season, but he was just glad to have walked away unhurt.
"Still, it was a good weekend up to then, because we had a very good starting place in P9 and I had a very good shot of the points again," he added.
"So that hurt us, but I think safety first, I was very happy to walk off after such a big shunt."
Carlos Sainz went on to win the race for Ferrari, ahead of Red Bull's Sergio Perez and Mercedes' Sir Lewis Hamilton.