Former Formula 1 driver Kimi Raikkonen has been photographed taking his four-year-old daughter, Rianna, go-karting as the second of his two children ventures onto the racing scene.
Raikkonen left F1 at the end of 2021 after 19 seasons in the sport, during which he won 21 races; six arrived during his championship-winning campaign in 2007 with Ferrari.
He would take three more in 2008 and 2009 before leaving at the end of he latter of those years to pursue other series.
READ: 'Significant time gain': Red Bull send warning to Ferrari and Mercedes ahead of key upgrade
He scored 25 points in 11 events in the 2010 World Rally Championship [WRC] in 2010 with Citroen, before adding another 34 to the tally with Ice 1 Racing a year later.
Raikkonen also entered the NASCAR World Truck Series with Kyle Busch Motorsports, and the NASCAR Nationwide series with NEMCO.
Having decided that he missed the thrill of racing in the pinnacle of motorsport, he returned to F1 in 2012 with Lotus, and won the Abu Dhabi Grand Prix that year, giving us the famous "leave me alone, I know what I'm doing" line.
The Finn claimed another victory in 2013 with the Enstone team, but departed before the end of the season due to a pay dispute before re-joining Ferrari ahead of the 2014 season.
The 42-year-old sealed his 21st and final career victory at the 2018 United States Grand Prix, and spent three years kindling an unexpectedly endearing bond with Antonio Giovinazzi at Alfa Romeo, scoring 15 points finishes.
Article continues below
It is safe to say that the world champion has a great deal of racing heritage to pass on, and he and his wife Minttu welcomed Robin into the world seven years ago, with the Espoo-born racer's son also having taken to the karting track.
READ: Bottas reveals Raikkonen advice ahead of Alfa Romeo debut
On her Instagram story on Wednesday, Minttu posted pictures of Rianna suiting up in some racing overalls with the caption: "Let's go," as Kimi spent some time with her on the track getting her acclimatised to sitting in a go-kart.
Minttu also posted a short video of her two children racing on the track.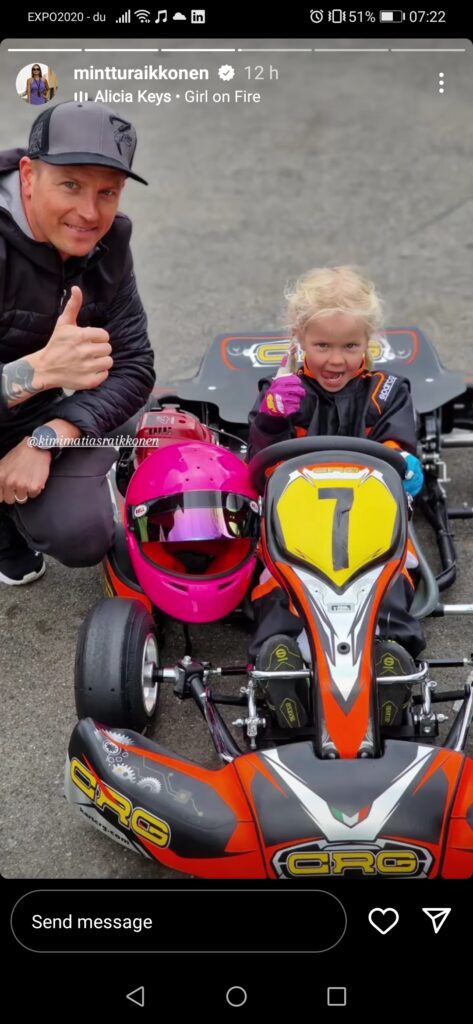 It was a wholesome moment for the Raikkonen family, and with both of their children getting into karting at such a young age, don't be surprised to hear of the up-and-coming generation of future Raikkonen stars in a few years' time.