McLaren Formula One team principal, Zak Brown, has extended a heartwarming invitation to Nicole Piastri, the mother of Australian rookie driver Oscar Piastri, after the 22-year-old sensation secured a coveted front-row starting position for Sunday's grand prix. 
This remarkable achievement marks a significant milestone in Oscar Piastri's burgeoning career, with Japan being the first full grand prix where he will commence from such a prestigious grid slot.
Brown's heartfelt offer to fly Nicole Piastri to Japan came in response to her jesting response on McLaren's social media post, where she humorously inquired about affordable flights to Japan.
Speaking with Sky Sports television, Brown exclaimed, "I'm very happy to buy her an airline ticket," and extended a warm welcome to Nicole, stating, "So if you can get here Mrs. Piastri, we want to see you tomorrow."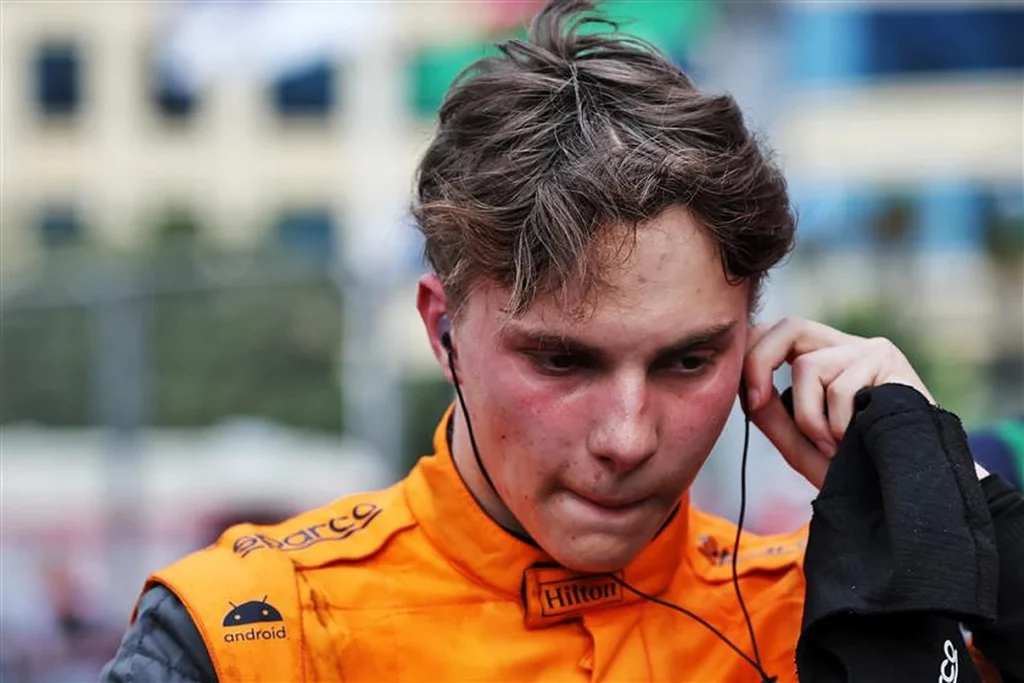 Want to work in Formula 1? Browse the latest F1 job vacancies
Oscar Piastri's mum was quick to turn down the offer, saying:
"Thank you for the kind offer but I think it's best that I have my anxiety attack in the comfort of my own home. I do however intend to have mastered the art of meditation in time for the Vegas GP though…"
Nicole Piastri has gained considerable recognition on X (formerly Twitter) for her witty and light-hearted commentary on her son's career. 
"In response to McLaren's announcement of Oscar's contract extension until 2026 earlier this week, she playfully tweeted, "What!! So we are doing this for another 3 years???"
Article continues below
McLaren's impressive performance during Saturday's qualifying session added to the team's recent resurgence after a challenging start to the season.
Lando Norris secured the third spot on the grid, while Red Bull's championship leader, Max Verstappen, clinched pole position.
Remarkably, McLaren now appears to outpace its engine provider, Mercedes, with Norris achieving three second-place finishes in the past six races.
Brown praised Oscar Piastri's exceptional driving skills, declaring, "He's driving great," and emphasised the significance of their driver lineup.
He also commended the team's cohesion under the leadership of Andrea Stella, expressing confidence in their potential to challenge Max Verstappen and potentially secure podium finishes.
Brown stated, "It would be nice to get a car or two ahead of Max at the start and give him a bit of a race.
"I think we can definitely end up with a couple of cars on the podium."
Oscar Piastri, equipped with upgrades on his car that proved beneficial in the previous weekend's Singapore Grand Prix, expressed his excitement about starting from the front row after a significant hiatus.
He told reporters, "It's the first time I've started on the front row for a while.
"So, it'll be cool.
"There's only one car ahead to overtake, so I'll try and make that happen."
While Piastri's achievement places him in a select group of just five Australians to start a Formula One grand prix from the front row, he remained focused on his journey ahead.
Piastri remarked, "There's not been that many Australians in F1, full stop.
"But yeah, it's, of course, not a record I'm trying to chase," highlighting his determination to set his own records and leave a lasting mark on the sport.
Reflecting on this extraordinary success early in his F1 career, Piastri expressed gratitude, saying, "It's nice just to have that success… and in particular so early on in my F1 career.
READ: Max Verstappen targets Carlos Sainz revenge
"Some people don't get this opportunity in their whole career.
"So for me to have it in my first six or seven months is a privilege."
Yet, Piastri's ambitions remain undiminished as he aspires to break new records and attain greater heights in the world of Formula One racing.