Fans on social media did not take kindly to Max Verstappen's defence late on against Haas' Mick Schumacher as the Dutchman held on to seventh place in Silverstone.
Verstappen had initially got into the lead of the race off the start when he passed the Ferrari of Carlos Sainz, but the red flag was immediately brought out when a scary crash involving George Russell, Pierre Gasly and Zhou Guanyu sent the latter flying over the barrier and into the fence behind it.
Thankfully, the Chinese driver was okay, and the drivers were set back to their original grid positions, with Sainz holding Verstappen off this time.
However, the Spaniard made a mistake going through Chapel, allowing Verstappen to pass him for the lead, before the reigning champion ran over some debris and caused significant damage to his floor.
This sent him back down the order, and he ended up battling Schumacher for P7 in the final couple of laps.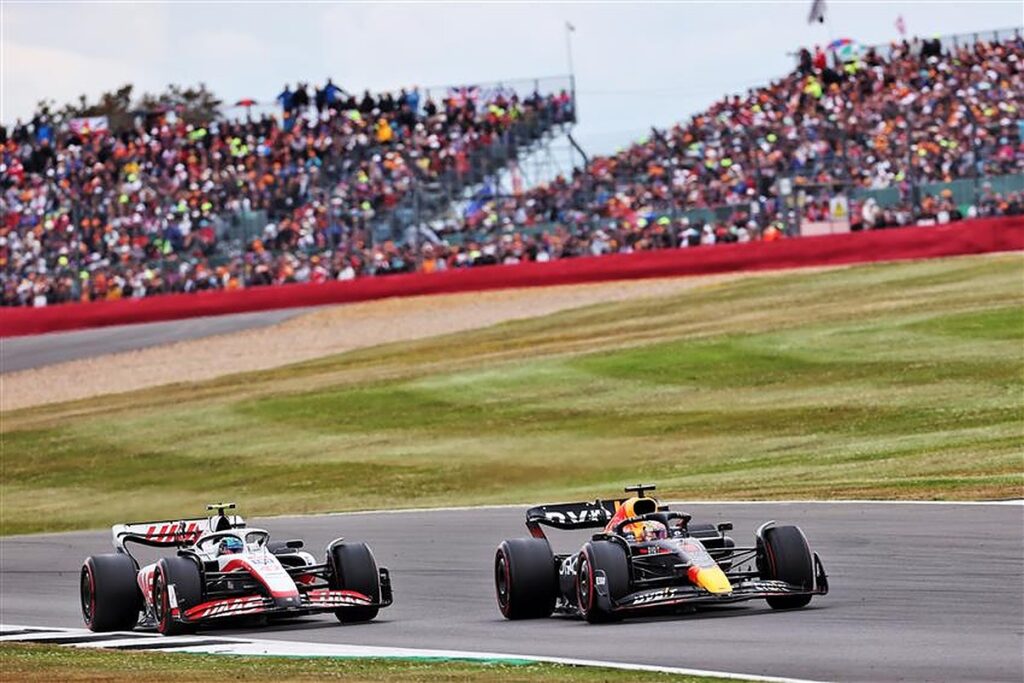 READ: 'It won't be an easy choice': Zhou has given Alfa Romeo a 'luxury problem'
He nudged the young German off the track at Brooklands, before they made slight contact at the Vale chicane, as the Red Bull driver just held on to take six points.
Despite all of the remarkable racing prowess the Dutchman has shown since his arrival into the pinnacle of motorsport in 2015, some fans believe that his actions on the final lap were indicative of a driver with no racing talent.
"Verstappen almost crashing into mick and forcing him off the track constantly to not let him past, no racing skill at all," said one user.
Article continues below
Another countered by stating that the Dutchman's car will have been difficult to control given the damage done by the debris.
"Car with zero rear aero load. You definitely had the skill though to do it. Definitely," they replied.
A third balance it out by affirming that Verstappen is a skilled racer, but is perhaps guilty of being too aggressive.
They cited Charles Leclerc and Sir Lewis Hamilton going side-by-side through Copse cleanly, where Hamilton and Verstappen had crashed in 2021.
"I disagree with you say not he has no reaching skill, but his aggressive style is what causing him a lot of contact, cost him the race last year on lap one, proof Charles and Lewis going through the same corner side by side no contact," they said.
After the race, the 24-year-old expressed his concern for Zhou and Alex Albon, who was also caught up in the accident, and explained what caused his bid for the win to unravel.
"Most important first of all is that Zhou and Alex and all the drivers involved are okay," Verstappen said in the media pen.
"I think only Alex is at the hospital at the moment for checks [he has since been released] so we'll see what happens but I hope everything is going to be fine because that was a very scary sight.
"Because you know normally that when you do the start and there's a red flag that quickly, that something serious happened.
"And also, I think today showed again that the halo really belongs in Formula 1 so that was very important from there to see that.
"And then, from there my race, first few laps I think were very good.
"We had very good pace and I was basically just reeling in Carlos until then he made the mistake so I got into the lead.
"But then a few corners later, there was like a piece of carbon in the track, in the kink of Turn Five, and at the time I realised it was there I could not drastically move left or right so I tried to hit it head on.
"Normally then it just evaporates of explodes, but this time it got into the floor and it completely destroyed the whole left hand side underneath.
"So, from there I was just losing a lot of time, the car was really undriveable so, I tried to do the best I could and I actually think because of the Safety Car we gained a few spots.
"So yeah, quite a lot of damage limitation today."
As for his fighting in the latter stages of the afternoon, the reigning champion had to scrap to salvage some points from an otherwise tough day in Towcester.
"I tried everything I could with the car I had," he explained.
"It's of course not what I want but sometimes you have those races which just become a bit unlucky."
READ: Watch: Shocking footage of protestors storming 2022 British GP as cars drive by
Verstappen continues to lead the way in the Drivers' Championship, and he is now 34 points clear of team-mate Sergio Perez, who recovered to second having also picked up damage as a result of contact with Charles Leclerc.
The Monegasque was left out by Ferrari under the late Safety Car, so fell behind winner Carlos Sainz, Perez and Hamilton who had all pitted onto fresh Softs.