After a year full of so much disappointment, Mercedes might just claim their first victory of the season at the Brazilian Grand Prix on Sunday; at least, they'll have their best chance of doing so.
It really is remarkable that Mercedes searching for their first win is even as big a talking point as it is, given the dominance the team has enjoyed since 2014.
2022 has been, of course, a very challenging year for the Silver Arrows and perhaps one where they've had to connect as a unit more than ever before.
Just one win would relieve so much tension and pressure off the side's shoulders, with George Russell and Lewis Hamilton having their best chance of the year to do just that.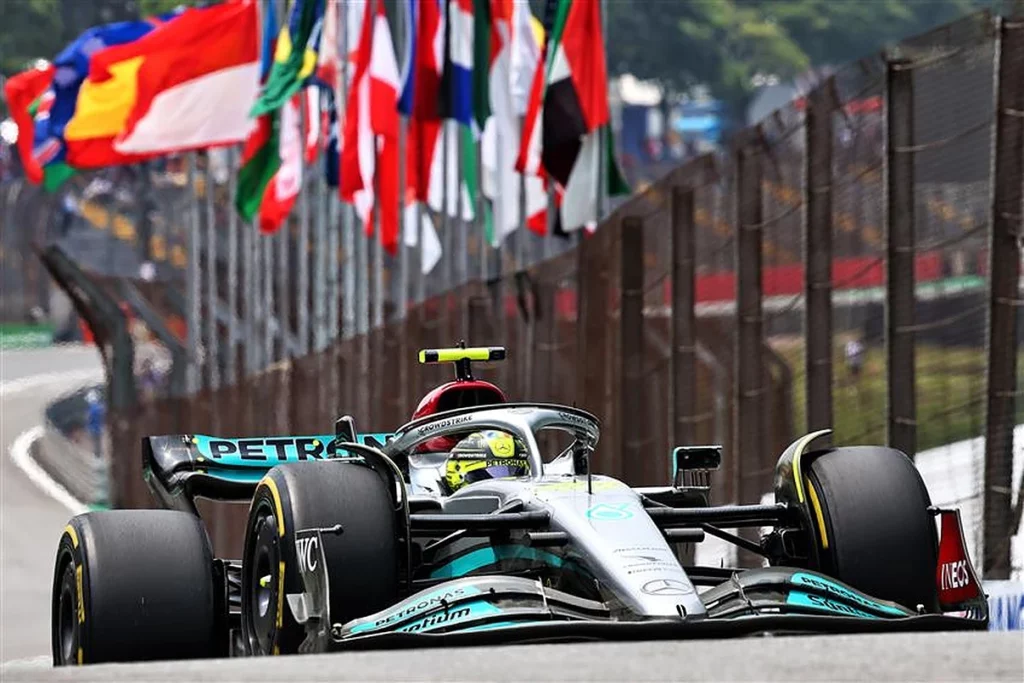 READ: 'Seb was the first one': Lewis Hamilton hails Sebastian Vettel for gesture
Despite having beached his Mercedes in qualifying, Russell started the sprint race from P3, where he quickly settled into the race.
He quickly overtook Kevin Magnussen who dropped to eighth, meaning he could fully focus on pursuing Max Verstappen.
Russell caught the Dutchman thanks to being on the red-walled Soft tyres, whereas Verstappen was on the yellow-walled Mediums.
The pair fought brilliantly across several laps, with Verstappen's defending having been unsurprisingly imperious.
Article continues below
However, Russell finally made his way past the double World Champion on Lap 15 on the rundown to Turn Four, where he then went on to claim a shock victory.
Mercedes' head of trackside engineering Andrew Shovlin couldn't believe the result, especially as Hamilton rose from eighth to claim third, but will start second following a penalty for Carlos Sainz.
"It was really all we could have possibly hoped for and to be quicker than Max there was a bit unexpected to be honest," Shovlin told Sky Sports F1 after the 24-lap race.
"I think a lot of that was down to the medium tyre. And a great recovery drive from Lewis. So it's been a while since we've had a front row start, but we're looking forward to it."
Shovlin continued to explain that the Germans appear to have a "bit of an edge" over Ferrari this weekend, something that wasn't expected based on the track layout.
The side will be giving it all they've got to make the most of their front-row lockout on Sunday, where they'll be hoping that Russell will continue to be "very smart behind the wheel"
"We know that George knows how to race," Shovlin added.
"He's very smart behind the wheel. It was nice today to give him a car where he could show what he can do right at the front and we know Max is always a difficult guy to be up against, really impressive drive by him.
READ: Fernando Alonso reveals lofty Aston Martin plan as he makes big claim
"I think we looked like we had a bit of an edge on Ferrari today. It's going to be a bit warmer tomorrow, that might change the picture a bit.
"And we obviously started from a pretty low bar early on in the season. It's been a lot of hard work to get here, but certainly the update that we brought a couple of races ago does look to have brought us into contention, so that's been really rewarding to see."