Double World Champion Max Verstappen has admitted to not understanding why himself and Lewis Hamilton always crash into each other, with the Dutchman believing he races "other drivers" no differently to how he battles Hamilton.
When a battle is brewing between Verstappen and Hamilton, the outcome has become somewhat predictable, with the pair seemingly being unable to enjoy wheel-to-wheel racing with one another.
Their issues became apparent during their titanic 2021 title battle, with their collision at the British Grand Prix, which saw Verstappen crash heavily at Copse Corner, appearing to have started their feud.
Since that moment, the pair are often crashing into each other, something which was seen at the Brazilian Grand Prix a couple of months ago, despite Hamilton having not been in the title fight.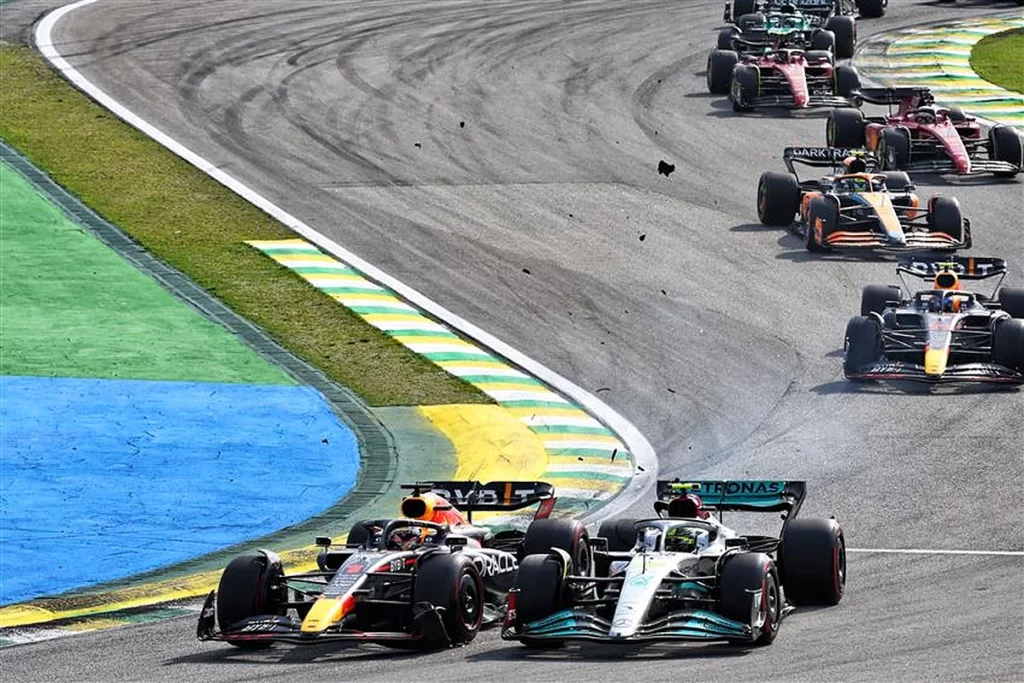 READ: Esteban Ocon makes Pierre Gasly 'help' claim amid tensions
Their collision at Interlagos saw Verstappen awarded a penalty, something he deems as 'unfair'.
When discussing his relationship with the seven-time World Champion, the 25-year-old struggles to answer why himself and Hamilton always collide, with the Dutchman believing he has to be "careful" with what he says about the Mercedes star.
"Well, I have to be careful what I'm saying here, but with everyone I've been fighting this year, it's been really hard, aggressive battles and we never really came together," Verstappen told Motorsport.com.
"Somehow, with Lewis it's a different story. And I honestly don't understand.
Article continues below
"Like, this year, ok we haven't really had a lot of battles. But Brazil we got together – it was not my intention [that we crashed]. I got the blame for it, which I didn't find fair.
"If it would've been more of a racing incident that I could live with.
"But… I don't understand. Maybe it's just a generation thing – that we understand each other better, we are racing nicer to each other. I don't get it.
"But I don't feel like I'm doing anything different to Lewis or to the other drivers in terms of how we're racing.
"Because the day before with George [in the Interlagos sprint race where Russell attacked and passed Verstappen], we were having an incredible [fight] – closing the door, defending, out-braking each other.
"That was a lot of fun and I was trying to do the same in the main race – having that kind of battle. But, unfortunately we couldn't get it to work."
Verstappen feels like he has to be careful with what he says due to the "criticism" he quickly receives from F1 fans in England, despite having respect for Hamilton.
The reigning World Champion appears to just want to be able to enjoy a battle with the 103-time GP winner, like he can with every other driver.
"Because in England this can very quickly be received as criticism," Verstappen stated.
"And then I'm being called out on it.
READ: Toto Wolff reacts to Christian Horner's 2023 copying concern
"I always respect Lewis a lot for what he has achieved in the sport, but that's why I don't really understand why we cannot really race like I've been doing with the others.
"Of course, everyone is different in their approach. I know that Charles is a bit different to George, or to Carlos [Sainz] or to Checo [Perez], or whoever.
"I do have to be a little bit more careful with that because immediately it's really taken as criticism. And then people start to hate on you. Well, that's not my intention."