Former Formula 1 driver Marc Surer is thoroughly impressed with the job George Russell is doing at Mercedes, but maintains that the Silver Arrows will not be looking at prioritising either of their drivers just yet.
Russell joined Mercedes over the winter to replace Alfa Romeo-bound Valtteri Bottas, and he has out-qualified team-mate Sir Lewis Hamilton once while out-racing him twice so far this campaign.
The 24-year-old was eight tenths quicker than his compatriot in qualifying for the Saudi Arabian Grand Prix having been a second adrift in Bahrain after the seven-time champion made changes to his setup.
READ: Russell hails 'pretty crazy' results but issues warning about Mercedes upgrades
Hamilton would then find himself unable to pit when he thought the pit lane was closed following engine failures for Fernando Alonso and Daniel Ricciardo, but the pitstops for Kevin Magnussen, Nico Hulkenberg and Valtteri Bottas after the 37-year-old had gone past confirmed that the Brackley side could have brought him in.
By the time he made it back round though, the pits had been closed, forcing him to stay out and pit once the Virtual Safety Car period was over, costing him valuable track position.
He ultimately recovered from 15th on the grid to claim a point in 10th, and similar misfortune befell him in Australia two weeks later when a Safety Car caused by Sebastian Vettel enabled Russel to pit and re-join ahead of him.
In his frustration, the 103-time race winner told the team that they had put him in a "really difficult position," and they later confirmed that the comment was due to the necessity to back off and cool the engine as he finished fourth behind the former Williams driver, who claimed his first Mercedes podium.
That first podium might have arrived in his one-off appearance for them in 2020 when Hamilton fell ill with COVID-19, and Russell twice looked on course to win the Sakhir Grand Prix but for a fumbled pit stop and a slow puncture, which sent him down to ninth.
Article continues below
Surer is enthused by the performances of the Briton so far in 2022, telling Formula1News.co.uk: "George Russell is doing a tremendous job.
"He is new in the team if you don't count Bahrain one year ago, he is immediately there. He was already in testing making a good impression and now also in the races."
Russell sits second in the Drivers' Championship at present, 34 points behind leader Charles Leclerc and nine clear of fifth-placed Hamilton, but the convoluted nature of the races so far, coupled with the fact that the year is so young, makes it impossible for Surer to determine a lead driver at present.
"To talk about the number one status is much, much too early because if you look at the facts he only beat Hamilton once in qualifying – that was in Jeddah when Hamilton got it wrong with the setup, and in the race Hamilton had twice bad luck with the pit stop," he explained.
"In Jeddah, the pit lane was closed when he wanted to change tyres and he had to change tyres later when the race was open again [green flag condition] and lost a lot of places.
"Then the same thing in Melbourne was also because Russell was lucky to have the Safety Car [which allowed him to change] the tyres."
But for these slices of misfortune for Hamilton, the 11-time points finisher in F1 believes that the Mercedes duo "would be more or less even with the points."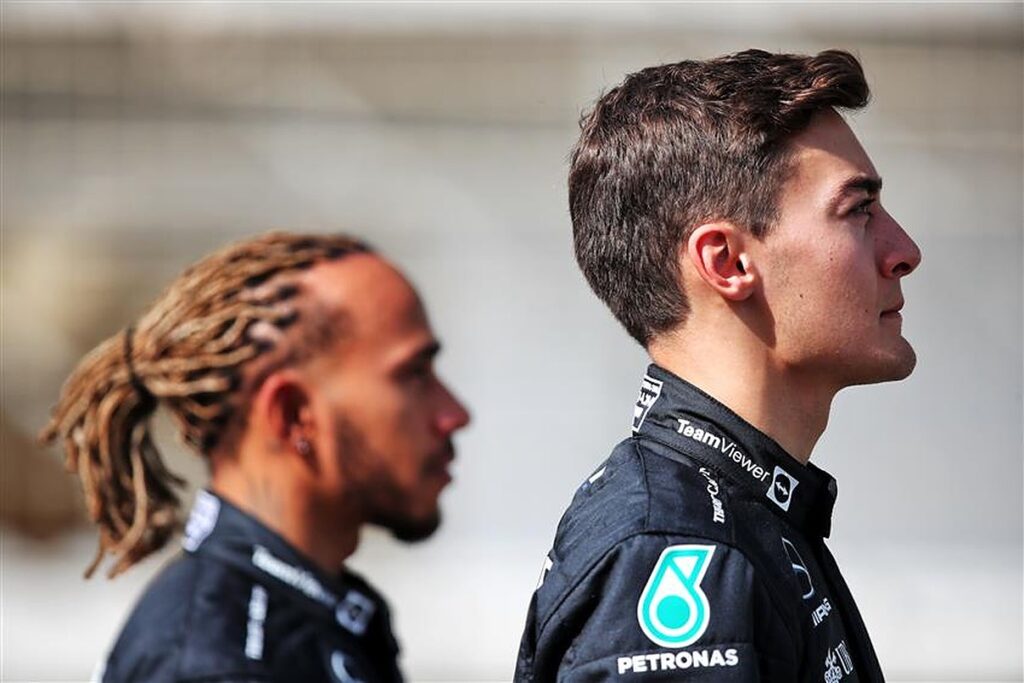 READ: 'That is something we have never achieved': Wolff hails Ferrari's engine gains
"It's much too early but he is doing a tremendous job but to beat Hamilton, there is a long way to go," he affirmed.
Mercedes have capitalised on reliability issues for Red Bull in the early going of the 2022 Formula 1 season, taking a podium through Hamilton in Bahrain as well as Russell's P3 in Melbourne, leaving them second in the Constructors' Championship.
The contents of this article can only be reused and republished by other media outlets in accordance with our Copyright Policy.