Rivalries appear to never die in Formula 1, no matter how many years pass, with Fernando Alonso and Lewis Hamilton seemingly being proof of that.
The two drivers, who have nine World Championships between them have never been the best of friends, with the duo having battled on countless occasions.
Hamilton somewhat disrupted Alonso's momentum in 2007 during his rookie season, where himself and Spaniard were team-mates at McLaren.
Whilst it was the 37-year-old's rookie season, it was also Alonso's first at the Woking-based team, who he joined on the back of winning the title at Renault in 2005 and 2006.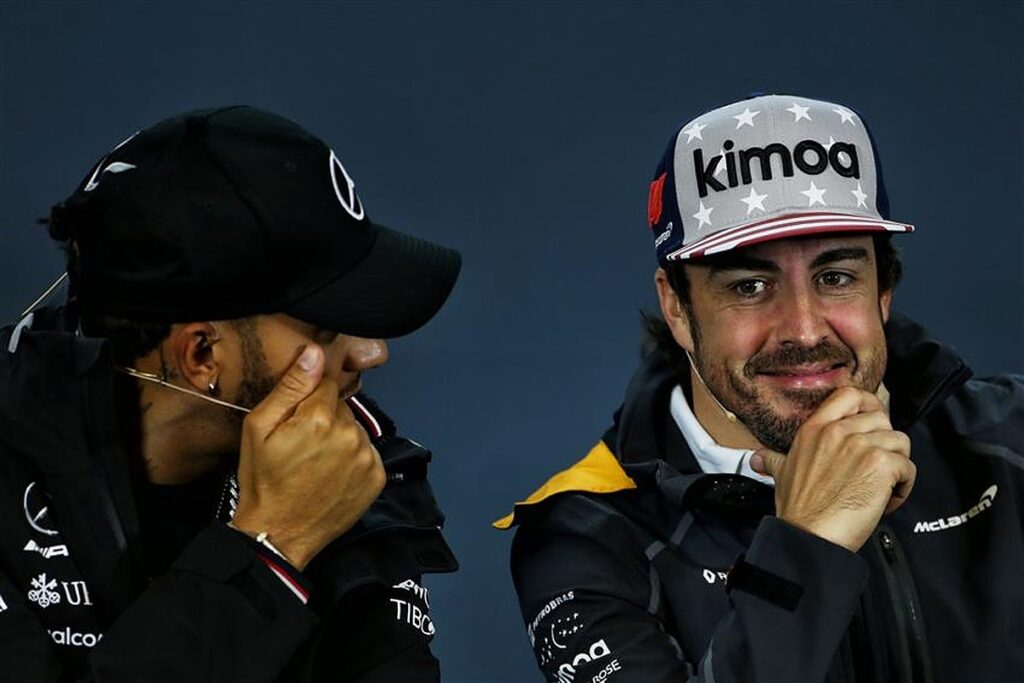 READ: Christian Horner makes claim about 'enormous' FIA penalty
Some had predicted that Alonso would continue to dominate, especially given that Michael Schumacher retired at the end of 2006.
The complete opposite happened, as Hamilton clearly wanted to prove that he was one of the very best in the championship.
Alonso and Hamilton battled throughout the year and both found themselves in the championship fight at the season finale, where it was Kimi Raikkonen who snatched the title from McLaren's grasp.
Dirty tactics were used that season, including, Alonso holding Hamilton up in the pits purposefully so the British driver couldn't set a final lap-time during qualifying at the Chinese Grand Prix.
Article continues below
Despite both missing out on the title that year, Hamilton ended the season level on points with Alonso; however, due to having better results he finished above the double World Champion.
Alonso left McLaren at the end of the season to return to Renault, whilst Hamilton continued at McLaren in 2008, where we all know exactly what happened at the Brazilian Grand Prix.
The pair have fought countless times over the years, most recently at the 2021 Hungarian Grand Prix, at least that's the best duel the pair have had as of late.
Tensions clearly remain between the duo, as Alonso interestingly told De Telegraaf that Max Verstappen's two titles are "worth more" than Hamilton's seven, bizarrely.
Many articles have been written about what the 41-year-old said, but he decided to take to social media to take aim at journalists for "searching for headlines", whilst adding that "all titles are amazing".
"And again…" began the Spaniard.
"Please, all the titles are amazing, well deserved and inspiring. Incomparable to each other and let's enjoy champions and legends of our current time. Tired of the continuous search for headlines.
"Let's enjoy them."
It's safe to say it didn't take long for someone to comment below what the Spaniard said to cause the "headlines".
Following Verstappen's second championship, Alonso said the following to De Telegraaf.
"Max's titles are worth more than Hamilton's," Alonso is quoted saying, per De Telegraaf.
"I have a lot of respect for Lewis but it's different when you win seven world championships having only had to fight against your teammate."
Hamilton clearly got hold of what Alonso had said after qualifying, where he posted a simple photo from the 2007 United States Grand Prix, where Hamilton appears to be consoling Alonso who lost out to the 103-time GP winner.
A simple thumbs up is all that was written, demonstrating that there is certainly still fire in the duo's rivalry.
Hamilton has his best chance of a win all season at Sunday's Mexican Grand Prix, after qualifying P3 at the Autodromo Hermanos Rodriguez Circuit.
READ: 2022 Mexican GP: Valtteri Bottas thought he was in a Mercedes
The Mercedes driver topped Q1 and Q2, before falling short in the final part of the session, meaning he'll start behind both Verstappen and George Russell.
Third is somewhat the best place to start, though, given that Verstappen will be giving Hamilton an incredible tow all the way down to Turn One.
Should the Stevenage-born driver claim victory, then it will be his and the team's first of the season, something which will fill the Brackley-based team with confidence.