Lewis Hamilton claimed back-to-back second place finishes at the Mexican Grand in more ways than one, after the Brit finished second at the United States Grand Prix and at last season's race at the Autodromo Hermanos Rodriguez
It was by far one of the worst races of the season, as the high altitude and thin air resulted in drivers being unable to follow one another, without overheating becoming an issue.
As a result, the start proved to be crucial, something the seven-time World Champion aced.
Hamilton overtook team-mate George Russell for second in the opening sequence of corners, where he then remained during the race.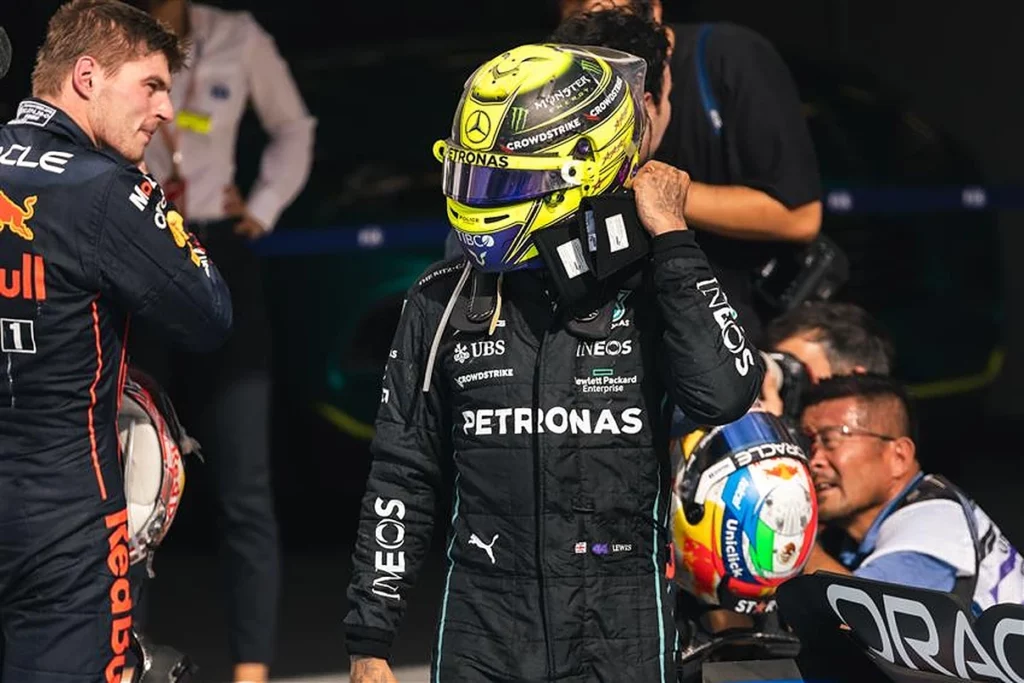 READ: Max Verstappen and Lewis Hamilton leave fans cringing after Mexican GP
Victory quickly appeared to be off the cards for the 37-year-old, as Red Bull went for an aggressive tyre strategy, whereas Mercedes opted for a much more conservative method.
The result, nevertheless, saw Hamilton move above Carlos Sainz for fifth in the Drivers' Championship, meaning that as it stands 2022 won't be his worst ever season, but his joint worst.
With two races remaining, including, his beloved Brazilian Grand Prix, Hamilton will be hoping that he can still claim his first win of the season, something he needs to ensure his record of having won a race every year since 2007 continues.
Whilst the on-track action was uneventful, off the track, it was an "awkward" race day for Hamilton.
Article continues below
The Mercedes driver was hit on the head by a camera before the race, resulting in a visible bleeding cut on the side of his temple.
Hamilton was also booed and jeered by the Mexican fans after the race, whilst giving his post-race interview.
The oddness didn't end there, though, as the British driver was asked in the post-race press conference about his response to Fernando Alonso's bizarre comments in Mexico.
Alonso was quoted as saying, per De Telegraaf, that Verstappen's two titles are "worth more" than Hamilton's seven, with the pair's rivalry seemingly as fiery as ever.
The duo have clashed several times during the years, none more so than during Hamilton's rookie year in 2007, where he partnered Alonso at McLaren.
To make the situation even weirder, Alonso then released a tweet insisting that journalists are "searching for headlines" and that every champion should be appreciated and not compared.
Whether this was Alonso's attempt to backtrack on his comments or not is a debate for another day; however, it's safe to say Hamilton won that particular social media battle.
The Stevenage-born driver simply responded on social media with a thumbs up, accompanied by a photo from the 2007 US Grand Prix podium, where Hamilton, who won the race, is seen appearing to console the Spaniard who came second.
Hamilton was asked about his response during the press conference after the race, adding further proof that there simply wasn't much to talk about regarding the race itself.
READ: Female fans make Carlos Sainz blush in Mexico
"I have tried to be really respectful over the years," Hamilton started saying during the post-race press conference.
"For example, when you ask me about who's been the better driver for me I always try to give praise. But, it's definitely interesting to see the comments that are made.
"It doesn't really matter so that's why I just put the thumbs up."