Prior to this weekend's fan-favourite Brazilian Grand Prix, Lewis Hamilton was given perhaps the greatest honour of his life, after the seven-time World Champion was made an honorary citizen of Brazil.
Hamilton has held a special relationship with the country of Brazil and the Brazilian people his entire life, with the 37-year-old's hero growing up having been three-time World Champion Ayrton Senna, who sadly died at the 1994 San Marino Grand Prix.
Throughout his career, Hamilton has demonstrated his love for his hero, through special helmet designs and incredible celebrations whilst at the circuit in Interlagos.
Hamilton has claimed victory in Brazil three times in his career, with his most recent having been last season.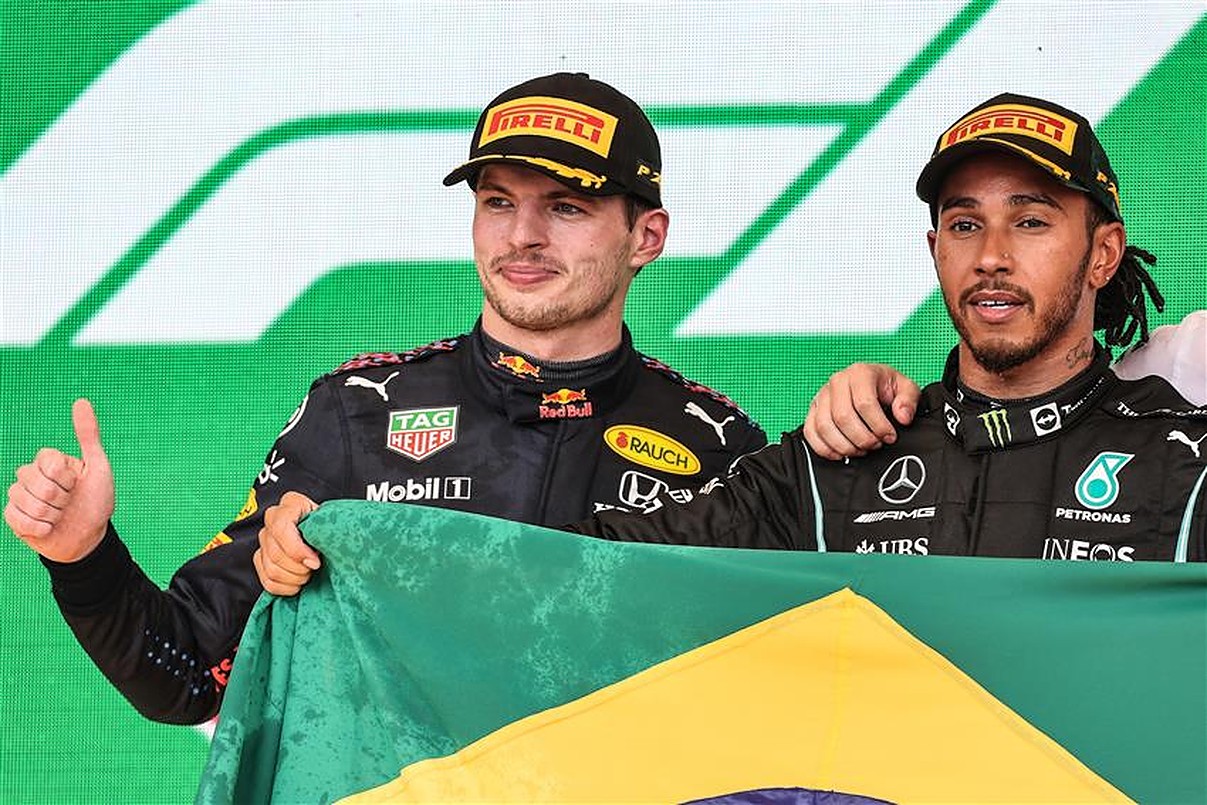 READ: Toto Wolff rues lost development time, praises Red Bull 'sweetness'
In the sprint race, Hamilton worked his way through the field from last to fifth, before going from tenth to first in the main race.
To celebrate, the 103-time GP winner draped himself in the Brazilian flag and held it above his head proudly.
Since then, congressman Andre Figueiredo has been trying to get Hamilton his award, something that was finally announced prior to the Azerbaijan Grand Prix.
The ceremony finally took place ahead of this weekend's race, where the Brit was hailed as an eight-time World Champion, which caused an eruption of applause, with a grin having been seen beaming on the Mercedes driver's face.
Article continues below
Following the presentation of his citizenship, Hamilton gave a speech where he dedicated the award to Senna and his family and explained how his passion for the country came about.
"I really want to dedicate this honour to Ayrton Senna," said Hamilton at the ceremony in the capital city Brasilia's Chamber of Deputies.
"To Ayrton's family, to his friends and to his fans. For me, when I was five years old, I saw Ayrton race for the first time, and that was the moment I knew I wanted to be a World Champion, just like him.
"It was then that I knew and learned about Brazil. It was then that I started to play FIFA as Brazil!
"But really, through his eyes, I was able to see how passionate Brazilians were and how deep it goes, the love and passion you have for your country, and how beautiful it is. I'm so excited to spend some more time here."
Hamilton added to the Brazilian people that he feels "like now I'm one of you, finally".
"I'd like to say a big thank you to everyone here, for all those who have moved mountains to make this day possible," he added.
"It's honestly the greatest honour for me to be here receiving and accepting this citizenship."
Mercedes team principal Toto Wolff passed on his congratulations to his star driver on social media, where he explained how "incredibly proud" every member of the German team is in his "incredible achievements".
READ: Carlos Sainz makes Ferrari admission as he opens up on fighting Charles Leclerc
"It is a special moment for Lewis as he becomes an honorary citizen of Brasil," Wolff said on social media.
"To be recognised and celebrated by a country that calls Ayrton Senna one of their own is a true measure of Lewis' incredible achievements, both on the asphalt of Interlagos and as an advocate for diversity in our sport.
"From each member of the team…Lewis, we are incredibly proud of you. 'Obrigado' for what we have achieved together so far – and we are excited by what is still to come."