Lando Norris has revealed that he thanked the Mercedes drivers during the race after their collision at Turn 1 effectively took them out of contention for the race victory.
The race for Mercedes took an unexpected and unfortunate twist when Lewis Hamilton attempted an overtaking manoeuvre that proved overly ambitious on his teammate, George Russell, in the opening corner.
The resulting collision had inevitable consequences, leading to Hamilton's retirement from the race and Russell finding himself at the back of the field.
This unexpected turn of events provided an opportunity that McLaren readily seized.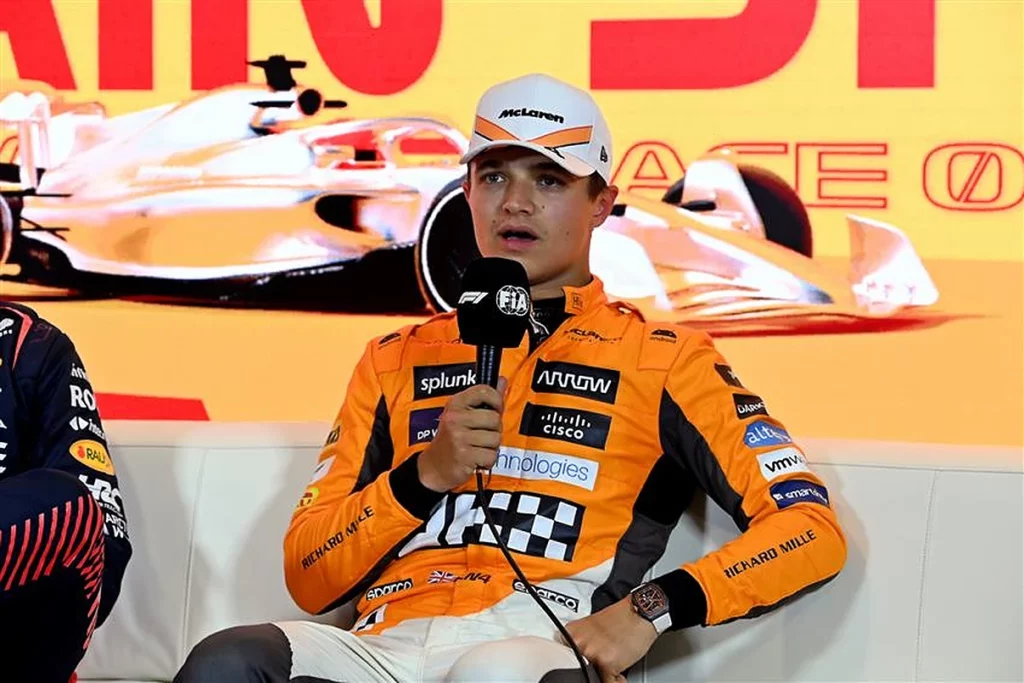 Want to work in Formula 1? Browse the latest F1 job vacancies
Both McLaren drivers, Norris and Oscar Piastri, reaped the benefits of the Mercedes drivers' mishap.
Norris secured a third-place finish, while Piastri achieved an impressive second place.
After the race, Norris candidly admitted to expressing his gratitude to the Mercedes drivers once they collided on the track.
When asked if he was surprised that team orders were not imposed, Norris stated, "Initially a little bit because we had such a big gap.
Article continues below
"They seemed to be worried about George and the Mercedes.
"We expected them to be very quick today, but they did a lovely job of just getting out of the way into Turn 1.
"I thanked them inside my helmet; I actually said thank you."
While Norris acknowledged his gratitude, he also recognised the challenges he faced during the race, particularly the difficulty of overtaking due to the impact of dirty air.
He reflected on his performance, stating, "I'm not 100% sure I could have got past Oscar today.
"The dirty air makes a big difference here on the circuit, and his pace was good. I was definitely quicker, and I think if I started higher up, which is down to my undoing of making too many mistakes on Friday and yesterday, then I would have fought for a better position, but I didn't. I made my mistakes.
"I paid the price for my starting spot, and I did the best I could to fight back, it just wasn't enough to get past him."
Norris emphasised that his frustration during the race was not related to team orders but rather stemmed from his own qualifying performance.
He explained, "Everyone wants to beat everyone. I don't care if it was Oscar or any other driver.
READ: Red Bull make damning Sergio Perez admission as rival drivers praised
"You want to beat them, and you want to do the best you can for yourself, but they asked me to stay behind, and I did.
"I could have probably pushed a bit more than what I was doing, but I was just happy with the P3 and P2. That isn't the frustration.
"My frustration is that I could have fought for victory, and that's what I missed out on."