Sir Lewis Hamilton's silence is deafening as Mercedes continue to press the FIA for action following the controversial 2021 Abu Dhabi Grand Prix, Formula 1 journalist Ben Hunt has opined.
Hamilton and rival Max Verstappen went into the final round of 2021 level on points after a collision-filled and controversial season, with both drivers needing to finish ahead of the other to emerge victorious.
Buy official Formula 1 clothing & merchandise
Alternatively – from a much more cynical perspective – a DNF for both of them would see the Dutchman crowned champion, as he was ahead by virtue of having won 10 races to Hamilton's nine.
Verstappen started the race on pole position, but was instantly passed off the line by the Mercedes driver.
The 24-year-old then went for a late lunge into Turn 6, with Hamilton venturing off the circuit after the pair had made contact.
The Brit re-joined ahead, and Verstappen's team were adamant that a penalty should have been given to the Briton for going off the track and gaining an advantage.
READ: Mercedes would have lost with 'more composure' if Lauda was still around – Marko
But, race director Michael Masi was satisfied that Hamilton had given up the advantage he gained by going off.
Article continues below
After that, the 37-year-old streaked clear of his rival – even despite the interference of Verstappen's team-mate Sergio Perez – and was leading by a comfortable margin late on before a crash for Williams' Nicholas Latifi.
The stricken car at Turn 14 brought out the Safety Car, which allowed Verstappen to pit for a fresh set of tyres.
Mercedes chose not to call Hamilton in, fearing a loss of track position that late on would cost them the race and with it, the championship.
They were unconvinced that time constraints would allow the grand prix to be completed under green flag conditions, so keeping Hamilton out seemed like a no-brainer.
This left five lapped cars between the pair, and in order to save time, Masi ruled that no lapped cars would be allowed through ahead of the restart.
However, with one lap to go, the Australian permitted only the five between the leaders to pass the Safety Car, thereby putting Verstappen right on Hamilton's tail.
As a result, Verstappen passed the Mercedes on the final lap to claim the title in the most dramatic of circumstances.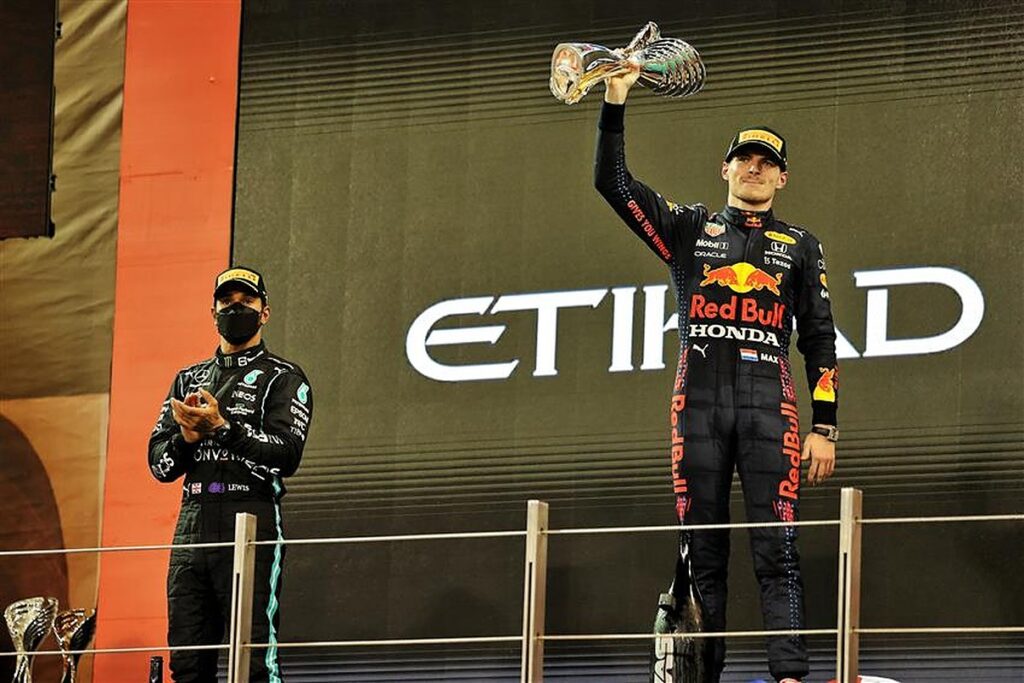 This led to ire from the Silver Arrows, who protested the stewarding decisions after the culmination of the race.
These were denied, and Mercedes would then later withdraw their intention to appeal.
In their statement, however, they maintained that they would be working with the FIA in their investigation of the highly controversial events late on in the race.
Rumours have also been circulating that Hamilton may now be ready to quit F1 having been cruelly denied his eighth world title, but Hunt writes in his column for the Sun that this is unlikely.
"SunSport understands that Mercedes are in contact with Hamilton, which would imply he is not yet ready to quit," Hunt suggested.
However, Hunt noted that the Briton has been eerily quiet since his defeat in Abu Dhabi and suggested this could be significant.
"However, the fact he has not spoken publicly – about any matter, not just the race in Abu Dhabi, for he also failed to acknowledge his knighthood ceremony – should still be taken with significance.
"There is a distinct feeling that while he was gracious in defeat to Verstappen, there is the nagging feeling of injustice as Masi fudged the rules."
Hamilton had claimed on the radio that the race had been "manipulated".
Hunt agrees with this statement, and reckons that his silence on the incident should be speaking volumes to the FIA.
"To use Hamilton's words, who radioed his team on that final lap, saying 'this race has been manipulated'.
"He clearly feels that by saying nothing, he is shifting the focus on to the FIA and keeping the pressure firmly on their investigation."
Hunt emphasised that Mercedes believe they would have won their case had they taken the FIA to court, and stressed their decision to withdraw the appeal was made jointly with Hamilton.
"Let's remember. Firstly, Mercedes believe that, should they have taken it to court, they'd have won and it was a joint decision between the team and Hamilton not to pursue it."
While we have not heard anything as of yet from the investigation, Hunt cites Ferrari's engine controversy in 2019 as an example of the FIA keeping controversy under wraps whenever possible.
READ: 'Rules suggested it wasn't worth' pitting Hamilton under Abu Dhabi Safety Car
The Scuderia returned from the summer break that year with a new engine in the car.
It powered three consecutive victories for the team, as Charles Leclerc won in Belgium and the team's home race in Monza.
His team-mate Sebastian Vettel would then win in Singapore, and this remains the team's last win to date.
Red Bull noticed irregularities in Ferrari's engine performance compared to before, and flagged it up to the FIA.
After an extremely quiet investigation, they announced that they had come to a settlement with the Maranello outfit, whose performance then took an immediate downfall – it was inferred that they had been ordered to change the engine as it was deemed illegal.
However, there was ambiguity over what exactly Ferrari had done wrong and as a result, Hunt says that Mercedes want everything to be out in the open this time.
"Secondly, in the past the FIA have had a history of hushing up their investigations. In 2019 a detailed look into Ferrari's engine resulted in a controversial private settlement between the two parties with the FIA's findings kept a secret."
Hunt feels that the manner in which the 2021 championship was decided leaves a "sour taste," and as such is convinced that Mercedes want a full and public explanation from F1's governing body.
"The outcome in Abu Dhabi left a sour taste, even for the most staunch Verstappen fan, who ultimately deserved his championship title.
"Mercedes – and Hamilton – want answers and not see the matter brushed under the carpet as in some of the previous years."
Though Mercedes rescinded their appeal, Hunt maintains that the matter won't be going away any time soon.
"Despite withdrawing their legal challenge, they don't want this matter simply to go away unchallenged.
"So, for the meantime, Hamilton will remain quiet on the subject of the FIA and their subsequent findings."
The F1 journalist added that Hamilton is conspicuous in his silence: "After all, his silence is already speaking volumes on how he feels about it."
Despite the 37-year-old's championship defeat, Mercedes were able to wrap up their record-eighth consecutive Constructors' Championship.
Follow us on Google News to never miss an F1 story