Mercedes' George Russell is not resting on his laurels at the Silver Arrows following a tremendous start to the season for the 24-year-old.
Russell was signed by the German team after impressing for three years at Williams, and he has out qualified team-mate Sir Lewis Hamilton six times, finishing ahead in seven races.
The young Briton has stood on the podium in Melbourne, Barcelona and Baku this year, and would love to start adding more to that tally if Mercedes can develop their car following a shaky start to the era of ground effect aerodynamics.
Indeed, those performance improvements are sure to come, but Russell is acutely aware that he needs to stay on an upwards trajectory too.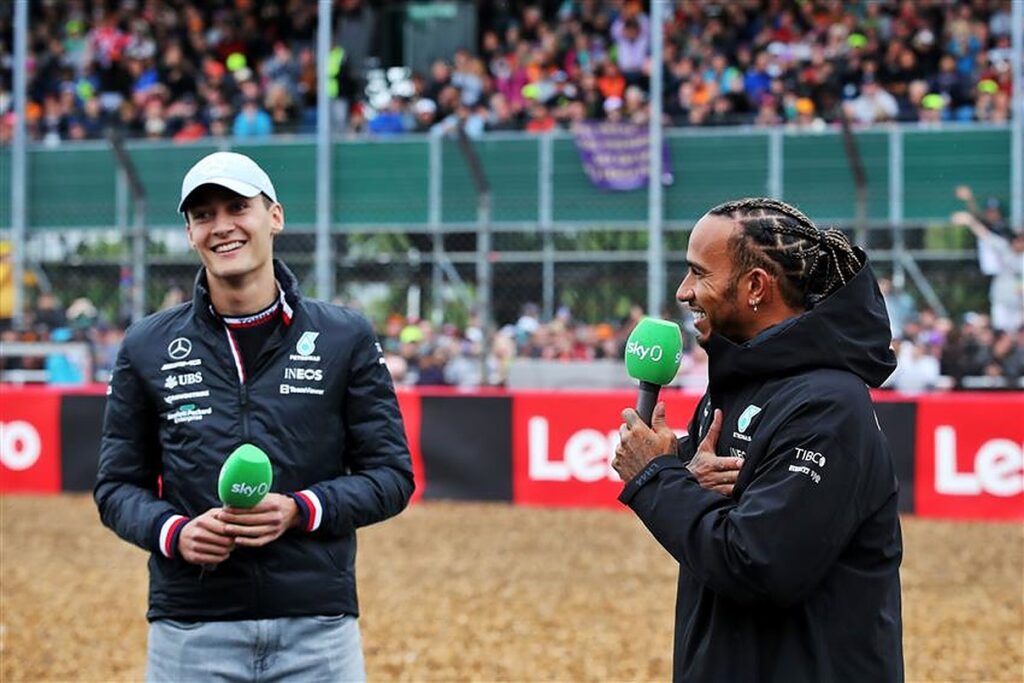 READ: George Russell unhappy with penalty as he suggests Sergio Perez should've backed out
"Things can change very quickly in Formula 1 and signing a piece of paper to join the greatest team of this era, without doubt, is obviously a huge moment," he told the Beyond the Grid Podcast.
"But if I don't perform, if I go and get my arse kicked by the greatest driver of all time, what does it mean? Because in a year's time I'll probably be out the door.
"It was a huge step on my ladder, but it's sort of like the image of the guy climbing the mountain – he thinks he's at the top and he looks up and the peak's miles away, and you get there and there's another peak, and that's kind of the way I look at it.
"There is a lot to celebrate for a moment like that. I want to be a world champion, I want to win races, and signing that contract didn't guarantee anything."
Article continues below
Performing so well up against a seven-time world champion is no mean feat, and Russell will know from Daniel Ricciardo's McLaren experience that it is not easy walking into a new team, so he is pleased with how he has started life at Mercedes.
"Obviously, it's done my confidence more good than if I started on the backfoot and if I was behind," he added.
"I think it's been clear over the past few years [that] it's not easy changing teams and going somewhere new when there's already an established driver on the other side of the garage.
"At the end of the day, this is Lewis' territory, he's been here for 10 years, he's won however many championships with the team.
"And they've had so much success together, so I never thought it was going to be easy."
Rafael Nadal, Roger Federer and Novak Djokovic have 63 Grand Slam titles between them in tennis, and Russell observes that they all have different characteristics that make them stand out.
"You've got probably the three greatest tennis players of all time, with three totally different approaches to their game," he affirmed.
READ: Lewis Hamilton and George Russell to be handed boost with major engine upgrade
"I think to be the best, or to at least be the best version of yourself, you shouldn't go out there and copy what the best has done."
As a result, the 2018 Formula 2 champion sees the importance of developing his own game, rather than trying to emulate Hamilton, who is arguably the best F1 driver to ever do it.
"He's the best because he's got the best out of himself and whatever he does works for him," said Russell.
"In the world of tennis, who do you copy? Do you copy Nadal? Do you copy Federer? Do you copy Djokovic?
"Obviously in the world of motorsport there's only Lewis for now, but that analogy made me think, 'You just need to do what's right for you', as those three greats in tennis have done."
Russell is fifth in the 2022 Drivers' Standings after 11 rounds of the season, 19 points clear of sixth-placed Hamilton.