2022 was certainly an incredible year for George Russell, one which saw the 24-year-old claim both his first win and his first pole position.
Whilst there wasn't the consistent success that perhaps he would've predicted when moving from Williams to Mercedes, due to the Germans woeful W13, he made the most of the car he had available to him.
If anything, Russell adjusted to the difficult W13 better than Lewis Hamilton, perhaps as a result of having experience of driving a challenging car at Williams.
Remarkably, Russell's one pole and sole win was the peak of the Brackley-based team's season, with Hamilton having failed to match either feat.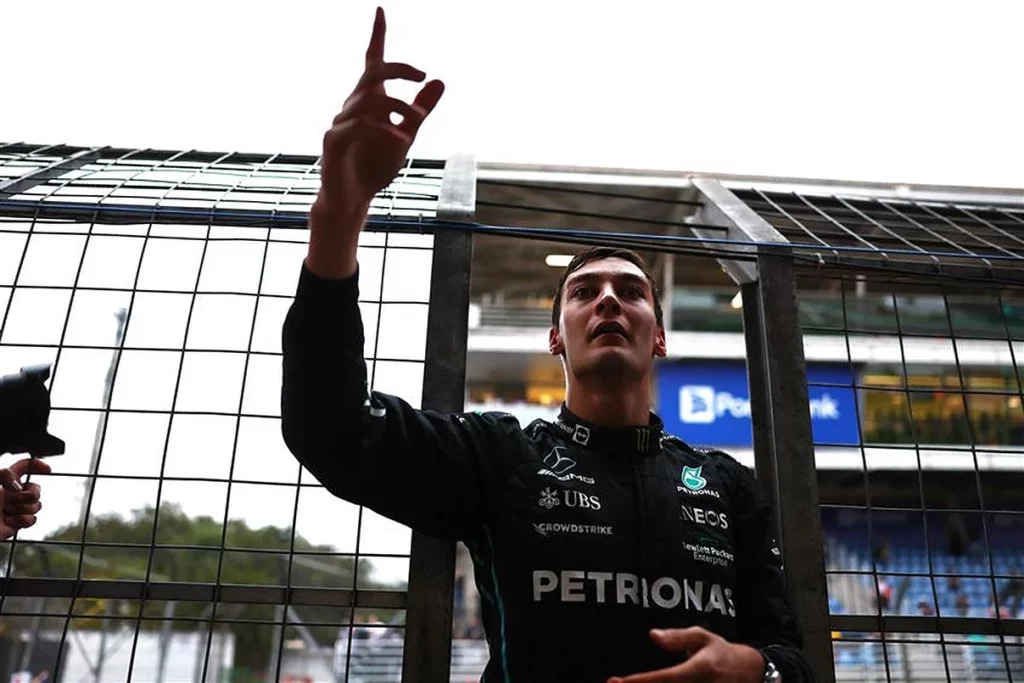 READ: Charles Leclerc makes Mercedes claim as Lewis Hamilton to be a factor in 2023 battle
In all fairness to Russell, he was truly dominant over his experienced team-mate during the first half of the season, with Hamilton having appeared lost in regard to car set-up.
Russell actually finished ahead of the 37-year-old at seven consecutive races, from the Bahrain Grand Prix up until the Canadian Grand Prix.
So just how did Russell beat a 103-time GP winner with such conviction? Well, he puts it down to having been in a "happier place" with the car from the start of the year, whilst Hamilton made "more drastic set-up changes".
"I feel that the biggest thing to take away from this is I was in a happier place with the car from the beginning," Russell explained to reporters ahead of the Brazilian Grand Prix.
Article continues below
"The big set-up changes were more to try and make the car go faster. We bought a number of test items to every single track, they were the main development parts, and they would always be alternated.
"One week was Lewis and one week was me – they would always alternate, week-in, week-out.
"For sure, at the start of the year, Lewis made more drastic set-up changes within the confines of the car, but that was purely because I was in a happier place and he was still trying to find the set-up that suited him.
"But when it came to development, it would always get alternated from one week to the next. And that's how it always is, we are on equal terms here.
"Whenever there was a development item, it does disrupt your race weekend. That's why it's always fair – that's why the team always do it one week with Lewis, one week with me. And we're still doing that now, for what it's worth."
Overall, Russell can be proud of his first season as a Mercedes driver, with the Brit having played a pivotal role in helping the usually imperious side overcome their horrendous porpoising issue.
The bouncing phenomena resulted in some truly bizarre results for Mercedes, with the side having been only a few-tenths off the leading pace at some venues and then up to two seconds off the pace at others.
Russell discussed the outfit's "inconsistencies", something that came as a result of multiple issues with Mercedes' worst car of the hybrid era.
"I think the reasons for those inconsistencies are because of the number of limitations we've had – one within our team, but [also] globally with these regulations," Russell added.
READ: Scene of Max Verstappen controversy set to return to 2023 calendar
"So, the porpoising, that was one big inconsistency at the start of the year – sometimes it was porpoising, sometimes not, only in some corners, not in other corners.
"Then, we learned the stiffness of the car was extraordinary and [we were] not able to take kerbs, learning that kerbs that you could take in previous years you can no longer take.
"And then learning the balance characteristics of our car was not right and needed adjusting."