McLaren's Lando Norris might consider becoming a prophet after his Formula 1 career is done after he foresaw the top four finishers in a British Grand Prix sim race.
F1 22 has now been released to gamers all over the world after EA officially took the publishing rights from Codemasters, although the Birmingham-based company still designs and makes the game.
Content creators, game reviewers and some Formula 1 drivers were given an early access version in May, which featured limited circuits from the 2022 calendar.
Norris was allowed to play the game on behalf of his Quadrant Esports Group, and he took on a five-lap race at Silverstone in his McLaren car.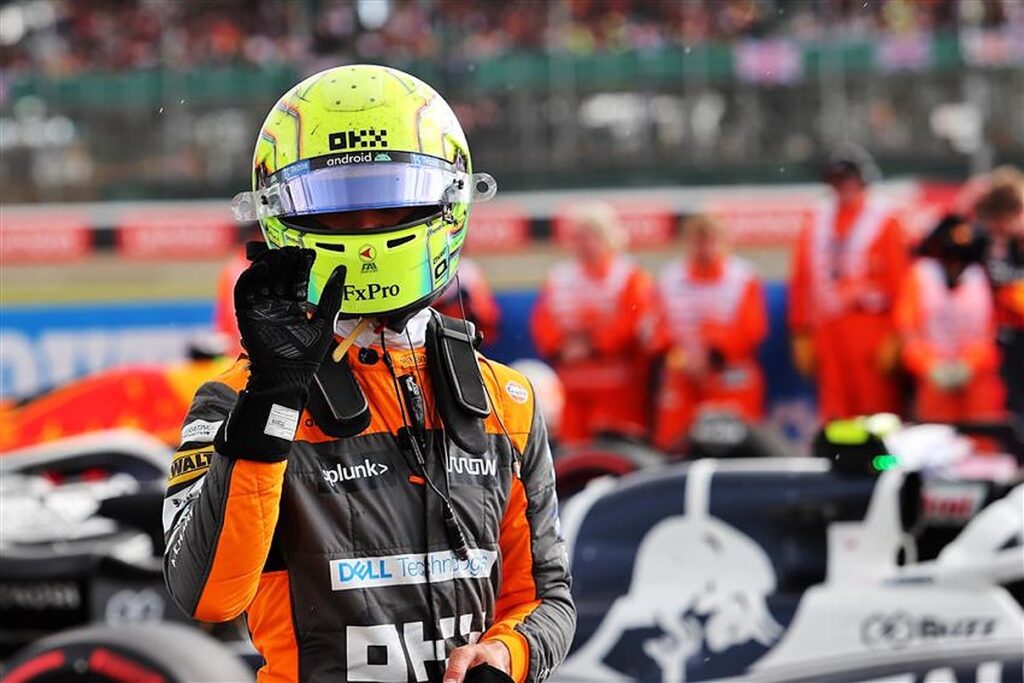 READ: Max Verstappen criticises fans, reveals why he has more respect for Charles Leclerc than Lewis Hamilton
The handling model on this year's game is vastly different due to the changes to the technical regulations that have taken place in the pinnacle of motorsport.
The cars now run much lower to the ground than before after the introduction of ground effect aerodynamics, and have stiffer suspension as a result.
There are also less aerodynamic parts on the chassis itself, so the behaviour of the cars in the corners and on kerbs is different in that there is more understeer on entry, less traction on exit, and less stability on uneven surfaces.
The new 18-inch tyres will also be quite something for players to get used to, as the warmup process is more complication than in previous years.
Article continues below
It is possible to pick up floor damage either through contact with other cars or on kerbs when simulation damage is turned on, and it will necessitate a calmer, more measured approach from racers.
This is something we certainly did not see from Norris as he got to grips with the game, recovering from 16th on the grid to end up in the points, diving down the inside of Pierre Gasly on the final lap, making heavy contact with the Frenchman at Vale.
READ: Revealed: Why did Sebastian Vettel walk away after 'big argument' with rival drivers
He finished the race eighth, but a two-second penalty put him back to P10 behind Gasly and Fernando Alonso.
The 22-year-old jokingly booed Ferrari as they celebrated their victory, and the top four in Norris' race happened to be exactly the same over a month later in the actual British Grand Prix.
Carlos Sainz took the win in Silverstone in July following an awful strategic decision that cost Charles Leclerc while he was leading, and the Monegasque fell back to fourth.
Sergio Perez would take second in front of the Mercedes of Sir Lewis Hamilton, in a top four comprised of the same drivers, in the same order, as we saw in Norris' race.
Coincidence? We think not, and we are certain that Norris has a crystal ball lying around somewhere, so it might take the expertise of Inspector Seb to seek it out.