It has been confirmed by the FIA exclusively to Formula1News.co.uk that FIA president Mohammed Ben Sulayem will be at this weekend's season-opening Bahrain Grand Prix, due to the country hosting a World Motorsport Council meeting on Friday.
The governing body also confirmed that this weekend's race won't be the only grand prix weekend that the FIA president attends.
However, in a statement sent to this publication, the FIA noted he will be at a "lot less compared to last year".
Tensions between the FIA and Formula 1 are at an all-time high, largely due to comments made by the president himself.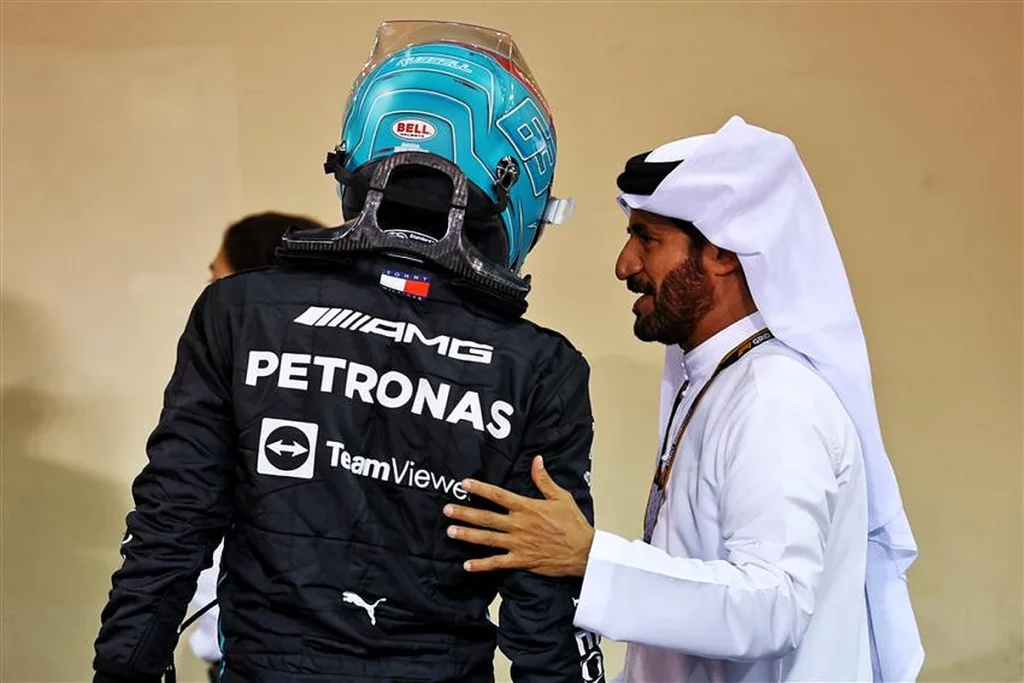 READ: Charles Leclerc warns Ferrari not confident heading into 2023 Bahrain GP
During the winter break alone, the 61-year-old labelled a rejected $20 billion offer to buy the sport from current owners Liberty Media as "inflated", publicly supported Andretti-Cadillac's bid to enter a team into Formula 1, to the fury of the current teams, and had sexist comments from over 20 years ago resurface.
It certainly hasn't been a smooth off-season for the FIA president, who actually handed over the day-to-day running of the pinnacle of motorsport to FIA single seater director Nikolas Tombazis, in a move judged by many as a response to the turbulent winter.
Ben Sulayem revealed, as per Sky Sports News, that the reasoning for him handing the responsibility to Tombazis was so that he could "focus on strategic matters with my leadership team".
With the president set to be at the Bahrain International Circuit, his response to any 'political statements' will be watched intently, following the FIA's controversial update to the International Sporting Code (ISC).
Article continues below
It was announced in December that drivers would be in breach of the ISC if they show "the general making and display of political, religious and personal statements or comments notably in violation of the general principle of neutrality promoted by the FIA under its Statutes, unless previously approved in writing by the FIA for International Competitions, or by the relevant ASN for National Competitions within their jurisdiction."
Interestingly, the new Article (12.2.1.n), states that "anything critical of or hostile to others' religious or spiritual beliefs" would also be banned, with that believed to refer to specially designed t-shirts or helmets in support of a campaign or a community.
Sky Sports News understands that the only way a driver could wear a helmet or t-shirt in support of the likes of human rights, or the LGBTQ+ community, is by asking the FIA for permission first.
With Lewis Hamilton having already revealed his helmet for 2023, which includes streaks of the LGBTQ+ flag, it remains to be seen whether he was granted permission by the FIA, or if he'll face punishment as a result.
READ: 'I have no problem with doing that': Guenther Steiner reveals story of $250k savings idea
The vast majority of the drivers have spoken out against the FIA, with many of the drivers who prefer not to discuss politics even recognising it as an attempt to eliminate their freedom of speech.
With this in mind, it'll be interesting to see how the dynamic is between Ben Sulayem and the drivers this weekend, should he interact with any of them.
Confirming his appearance at this weekend's Bahrain GP, the FIA told Formula1News.co.uk: "The President will be attending the Bahrain GP because the World Motorsport Council is happening here on Friday and he is still involved in those strategic discussions. He will still attend some races but a lot less compared to last year."
The contents of this article can only be reused and republished by other media outlets in accordance with our Copyright Policy.