Red Bull were undeniably dominant in 2022, with Max Verstappen having claimed 15 victories on his way to a second Drivers' Championship, whilst the Austrians sealed their first Constructors' crown since 2013, when it was Mark Webber and Sebastian Vettel in the garage.
Whilst everything was somewhat perfect in 2022 for Red Bull, Christian Horner still had to deal with tension between Verstappen and Sergio Pérez.
This was no issue for the team principal, who has experience of dealing with team-mate issues thanks to the now retired Vettel and Webber.
At the time of Webber and Vettel driving for Red Bull, the team had a mix of experience and exciting youth, with Vettel having been the latter.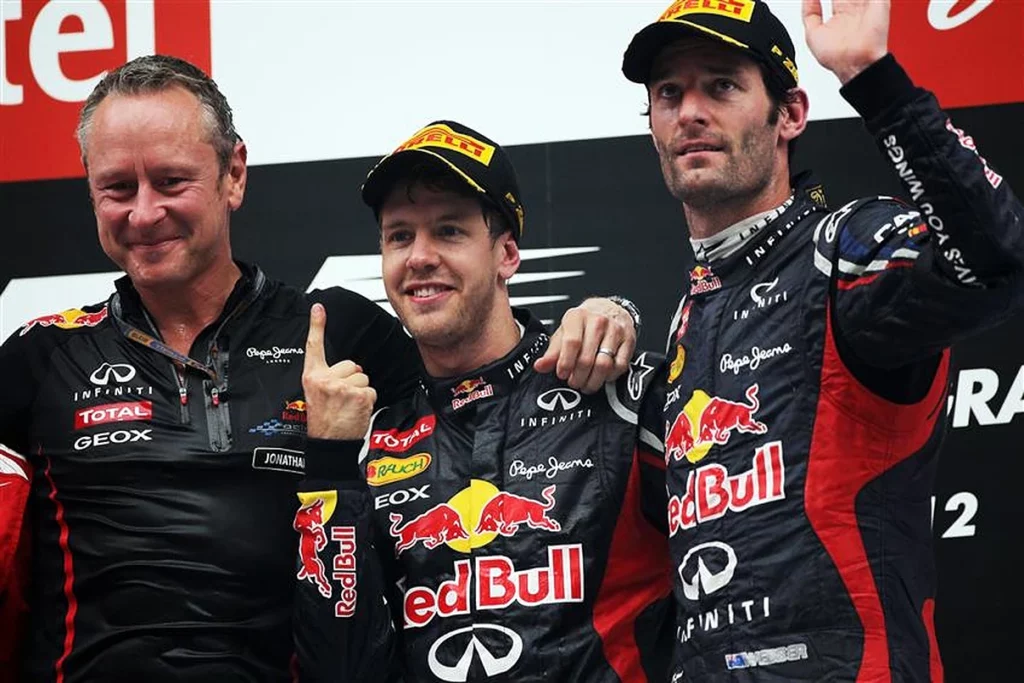 READ: Max Verstappen warned he can't dominate like Lewis Hamilton
The pair were alongside each other from 2009-2013, when the Australian retired from the sport.
Red Bull were imperious during their partnership, having claimed four consecutive Constructors' Championships from 2010-2013, whilst Vettel claimed four consecutive Drivers' Championships.
The two drivers had their issues, though, with the pair having collided multiple times.
Their most famous collision came at the 2010 Turkish Grand Prix, where the two collided at high speed whilst battling for the victory, which neither of them ended up claiming.
Article continues below
This appeared to be the start of the end of their partnership, at least the end of any sort of friendship.
Despite this, Webber believes the tension between the two started before that race in Turkey, with the Aussie referring to the 2009 German Grand Prix.
"Probably even before then," Webber said to Sky Germany.
"It's easy to be teammates when you're building to a scenario – P5 and P6, doesn't matter. But when you start to go for victories, and you start to see a championship come alive, then there's a bit more tension, on the engineers, on the drivers.
"We're looking for that last half a tenth, you want to make sure that you can try to have. It's another rival actually. There was a race before we had the incident [in Turkey] the year before, in 2009, there was a strategy where Sebastian wasn't happy with my strategy and I won the race."
The 2009 German GP was Webber's first career victory, something he achieved despite having served a drive-through penalty during the race.
On that day, Vettel finished second, something which saw him miss out on potential points in the fight against Jenson Button for the title.
"Then it just went on, a little friction here and there," Webber explained.
"Of course, then we had some contact and overall it was a challenging season finishing here [in Abu Dhabi].
"[There was] huge pressure on the team, [it was the] first time for them to be in that scenario. For us, we drove each other to the limits.
"But I was one of the first guys to congratulate him when he won the title in 2010. I went to his room and congratulated him. Of course, it was gutting for me, I was empty. It was tough but, in the end, he made me a better driver because he forced me to be better."
Whilst the pair were incredibly even in 2009 and 2010, from 2011 onwards Vettel reigned supreme in the Red Bull camp, with Webber admitting that he "was not good enough" to adjust to the introduction of Pirelli tyres.
"In '09, Seb was very strong and in '10, but it was not something that I didn't think was beatable," he said.
READ: Watch: Valtteri Bottas reveals questionable hairstyle in hilarious video
"I could beat him on my day, I could still have a chance to compete against him very, very evenly.
"Where the headaches and the huge problems for me came was when Pirelli arrived. He had the first world title, the confidence was high. I was really nowhere in 2011, I was not good enough to adapt to these type of regulations. Same age as him now, really old!
"So it takes time to change the new tricks for the old dog, so that's when I thought 'OK, now I have a headache on my hands'. But I was still in a good team. I had chances for victories and Sebastian, at certain tracks, was just unstoppable."