Formula 1 memers on social media have been praising Ferrari boss Mattia Binotto for the success that Red Bull have enjoyed in recent weeks, but does he deserve that?
Light-hearted though the jokes may sometimes be, the criticism of the Scuderia will be painful enough for them, but the ridicule is difficult to bear watching them go through.
The same mistakes are being made almost every week by Ferrari, who have shown a susceptibility to panicking under pressure, and sometimes under no pressure at all.
Last weekend in Hungary, Max Verstappen did not really look as though he was going to pose a threat to Charles Leclerc having stopped much earlier than the Monegasque for his first change onto Mediums.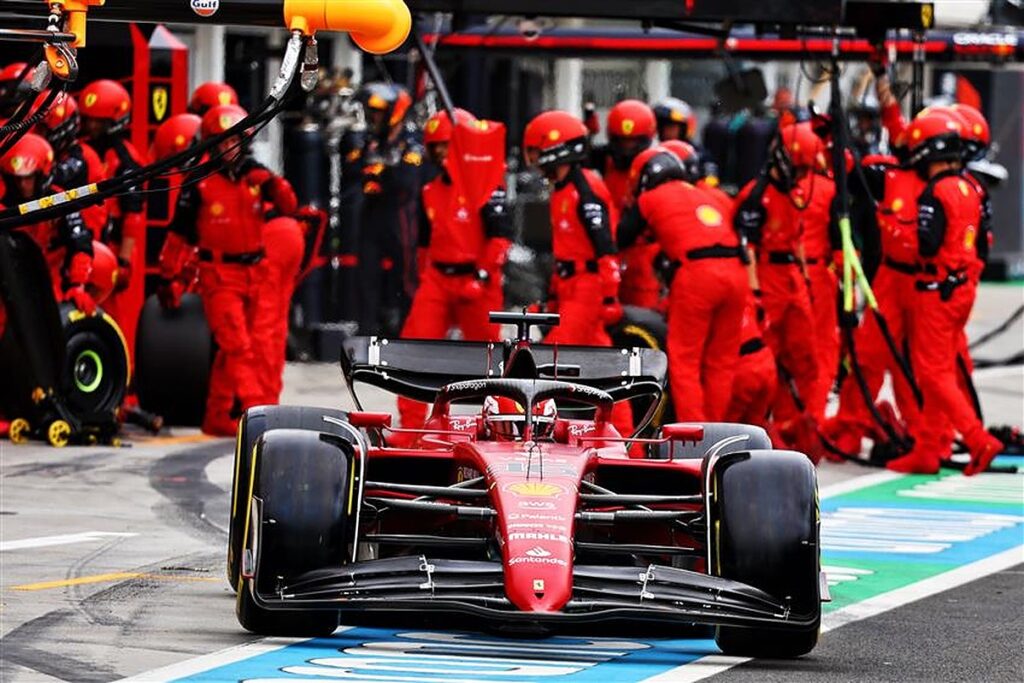 READ: Max Verstappen praises 'insanely calm' Hannah Schmitz
However, bizarrely, the Italian side decided to respond to the Dutchman's second stop despite the fact that he had the longevity in his tyres to go long and bolt on Softs towards the end.
When they brought him in, they had no sets of Mediums left at their disposal, so they had no choice but to put him onto Hards.
This cost him the position to Verstappen as well as George Russell, whom he had passed for the lead earlier in the afternoon.
In the end, the Scuderia boxed him again for Softs, and he ended up sixth while Carlos Sainz finished the race fourth.
Article continues below
The Spaniard was given a slow first stop but, other than that, he did not seem to have the pace to pass Russell, and was eventually overtaken by Sir Lewis Hamilton having been jumped in the pits by race winner Verstappen.
So, while Sainz's performance did not seem to merit a win, Leclerc's certainly did, and this is not the first time he has been denied victory by external factors.
Despite having a blisteringly quick car – having taken eight pole positions this season – Ferrari now trail Red Bull by 97 points in the Constructors' Standings, while Verstappen heads into the summer break 80 clear of Leclerc.
But where are Ferrari losing that ground, and whose fault might it be? To figure that out, you really have to chunk it down.
The Maranello-based team's reliability has been questionable at times this season. Both Leclerc and Sainz have suffered two failures each this year, while their customer teams – Haas and Alfa Romeo – have also been on the receiving end of some power unit and gearbox trouble.
Both of Leclerc's reliability-related retirements have come while leading in Spain and Baku; he was comfortably on for victory in Barcelona, and seemed to be on a more advantageous strategy than Red Bull while leading in Azerbaijan.
That is instantly 65 points lost to Verstappen and Red Bull, but the retirement in Baku was not the last bit of punishment he took as a result of that.
He was forced to start from the back of the grid in Canada, so was denied a chance at winning the race as he eventually climbed up to fifth.
Sainz also retired from the Azerbaijan Grand Prix, and then in Austria when he looked set to pass Max Verstappen for second place in Austria.
The 27-year-old lost 30 points in those two races, so he could have been battling Sergio Perez for fifth in the Drivers' Championship right now, but he has instead fallen back behind George Russell and into fifth.
Then we have strategy. Leclerc was sent down to fourth from the lead of the Monaco Grand Prix despite holding a comfortable advantage.
Instead of pitting immediately after the Red Bulls, or waiting until the end of the rain period, the Scuderia went in between those two strategies, giving Perez and Verstappen an undercut.
They did the same with Sainz, putting Perez into the lead as Verstappen beat Leclerc to third, in a horrible day at the Monegasque's home race.
Sainz won the British Grand Prix after falling behind his team-mate in the race and, instead of pitting Leclerc under a late Safety Car, they left him out on Hards.
The Spaniard passed him on the restart, before Perez and Hamilton both snuck ahead, leaving him fourth again when, had they simply double stacked during the Safety Car, the Maranello team surely would have walked away with a one-two finish.
That race was the perfect opportunity to capitalise on damage done to Verstappen's car by some AlphaTauri debris while he was leading, so Sainz had gotten away with the initial mistake that put the 24-year-old in front in the first place.
Ferrari then showed visible confusion as to how to deal with Sainz's five-second penalty in France; they did not know whether to pit him or leave him out on track to serve the penalty at the end.
Once again, their indecision led them to do neither as, after missing the opportunity to pit him and give him enough time to recover to third, they waited until he had passed Perez for P3 before calling him in instead of letting him go to the end of the race.
That preceded the nightmare of Budapest last weekend, which brings us onto the final ingredient – driver error.
There has been no secret of the fact that the F1-75 has been harsher on Sainz than it has on Leclerc; the 24-year-old has appeared more comfortable with it for the majorty of the season, as evidenced by Sainz's crashes in Australia, Imola and Miami.
The only real consequential one was in Melbourne when he span out in the opening laps but, having said that, he would have started higher up for the sprint.
However, it is perhaps too much of a stretch to suggest that this would have saved him from being wiped out by Daniel Ricciardo at the start of that race, because the team could not legislate for the Australian's error.
The Miami crash took place in practice so, asides from a temporary loss of confidence and a couple of aches and pains, this did not have much bearing on Sainz's season.
The 27-year-old might have made up some more ground in the standings if he had kept it on the road at his home race in Barcelona, and his mistake at Turn Four looked set to see him finish fifth, before Hamilton's cooling issues helped him up to fourth.
READ: Italian media claim Max Verstappen has 'secured his second title'
Red Bull took a one-two that day and, after Leclerc's retirement, the Scuderia did not have Sainz up there to take points away from either Verstappen or Perez.
Leclerc has only really been guilty of two mistakes this season. He lost three positions and seven points when he hit the wall in imola, before crashing out of the French Grand Prix while in the lead.
It is fairly evident then that Leclerc, while there have been one or two errors, has not been the one responsible for many of the lost points for Ferrari this season.
Sainz has admittedly made a few more mistakes, but he too has been let down by his fair share of strategic errors and reliability failures in 2022.
The Spaniard affirmed in Le Castellet that his team are "not a disaster," and such a word surely cannot be used for a team competing for the world championship.
But they certainly have been error prone, so naturally, eyes turn to the leader, Binotto.
The Italian was previously in charge of the technical side of things at Ferrari, and he was rather thrust into the role of team principal in 2019 after the dismissal of Maurizio Arrivabene.
However, Inaki Rueda is the man Binotto trusts to stay calm under pressure and navigate the team's way through the race by thinking on his feet and electing smooth strategies, but it has been anything but a smooth operation as Sainz would have hoped for.
Does all of the responsibility fall on his shoulders? Probably not.
Blaming one person for the downfall of the entire team is never a wise approach, but changes are needed at Ferrari, and it is clear that Rueda needs some assistance on his side.
With the deficit as it is in the standings right now, Ferrari may be well-advised to start thinking about how to attack next year's title challenge, because there appears to be no imminent let-up from Red Bull.