Mercedes finally looked like the team of old in Brazil, following a season where they have looked a shadow of their usual selves and struggled to compete with Red Bull and Ferrari.
The Silver Arrows are currently winless going into the final two races of the season, and after a near perfect sprint race result, the team will have their best chance of victory yet, barring a resurgence from the frustrated Red Bull's.
Max Verstappen's gamble to start of the medium compound tyres backfired, as degradation saw him be passed by George Russell, Carlos Sainz and Lewis Hamilton, and after the Ferrari driver serves his five-place grid penalty for a change of engine components, the Silver Arrows will have an unexpected front row lockout.
Verstappen and Perez will line up in third and fourth respectively, but Russell has suggested that his Mercedes team are in the perfect position for the race, as having both drivers on the front row of the grid means that the team can afford to split the strategy to grant two chances at a race win.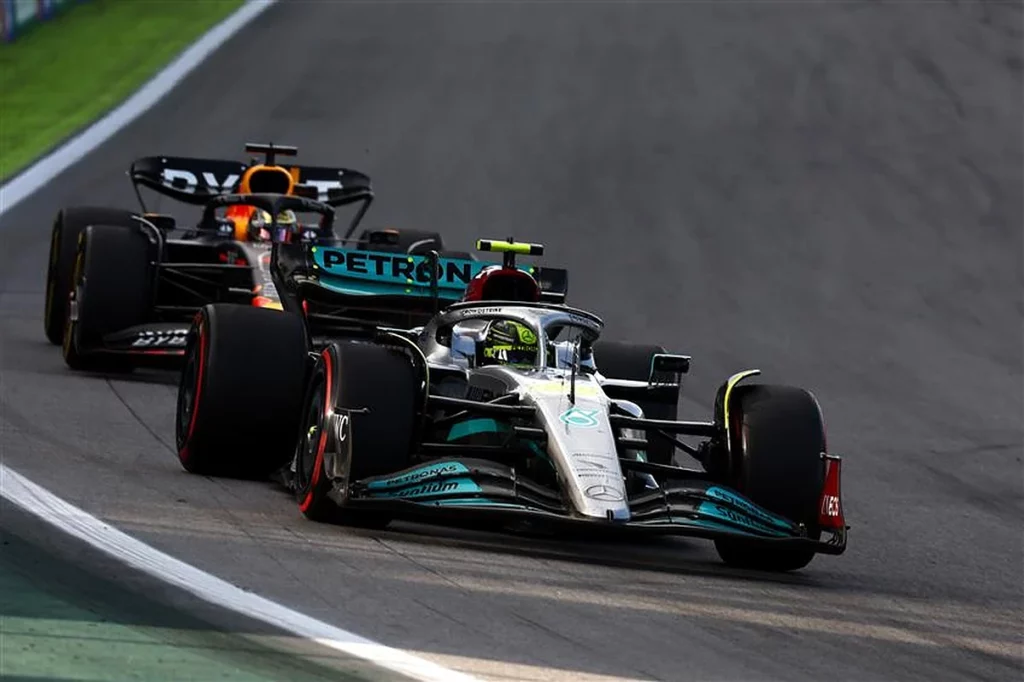 READ: Otmar Szafnauer suggests Alpine wouldn't fight Pierre Gasly race ban
Christian Horner, the Red Bull team principal, has argued it the other way however, claiming that his team's tactical error in the sprint race could actually give them the upper hand in what he expects to be a very difficult race.
"I think the soft tyre would have been a better tyre for us today but the advantage is that we take that extra set into Sunday's race," he said after the sprint.
"So we gave it up strategically today and hopefully we'll get it back tomorrow.
READ: Fernando Alonso reveals lofty Aston Martin plan as he makes big claim
Article continues below
"I'd rather have won the race and have two new sets of softs, but it sets up a really fascinating Grand Prix. Mercedes are going to be quick and drive a tactical race. It's two Red Bulls against two Mercedes and Ferrari, you can't rule them out either."
Both Red Bull drivers have had moments to forget this weekend, with Sergio Perez being held up in Q3 to finish in P9, and now Verstappen being overtaken by his biggest rivals due to an incorrect strategy call.
While the constructors' drivers' championships are both already wrapped up, Sergio Perez will be hoping that he can outscore Charles Leclerc, as he looks to secure second place in the drivers' championship and complete a flawless year for the energy drink giants.