Ferrari's Carlos Sainz does not believe the team could have done a better job at the British Grand Prix after the strategy once again worked against team-mate Charles Leclerc.
Sainz was running ahead of Leclerc in first and second after the Red Bulls of Max Verstappen and Sergio Perez had suffered damage, and the Monegasque was growing frustrated at not being allowed through.
This would not have been such a problem had Sir Lewis Hamilton not been hunting the Ferraris down and, after both Scuderia drivers pitted for fresh tyres, Leclerc was finally allowed past.
Hamilton suffered a delay on his stop when he came in, and he was starting to catch Sainz for second while trading fastest laps with Leclerc.
The seven-time champion looked in with a shout of winning the race when a late Safety Car was deployed when Esteban Ocon stopped just before Copse, but Ferrari, fearful that double stacking their drivers would lose them their one-two, left the leader out.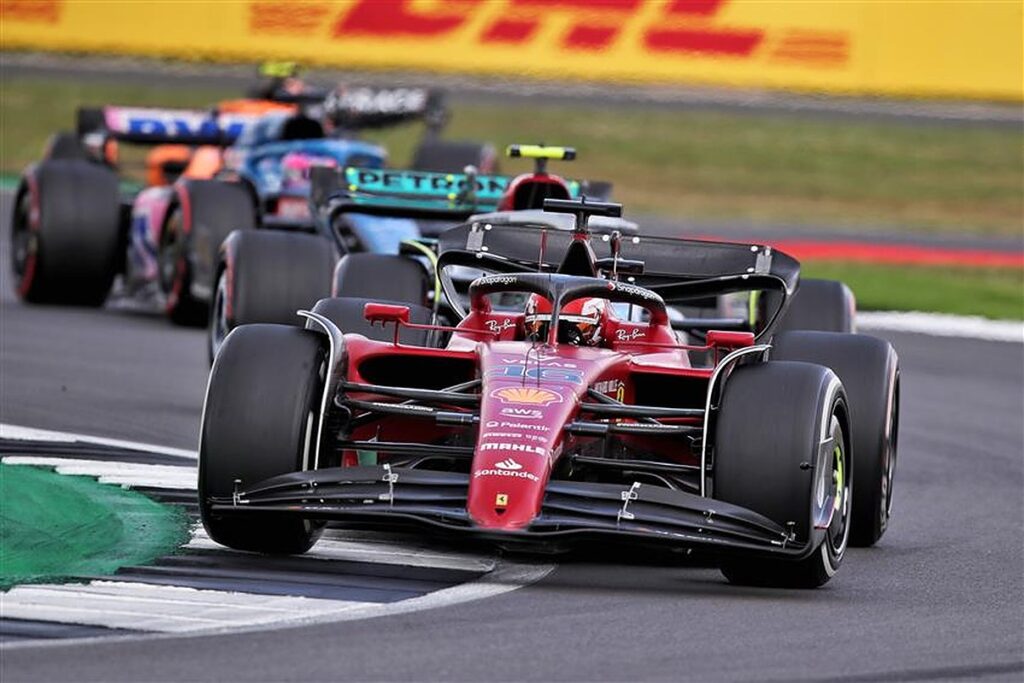 READ: Wolff brands Red Bull and Ferrari floors 'a shocker' as FIA rule them illegal after Austrian GP
Their plan was to use Sainz to protect the 24-year-old and hope that Hamilton's fresh Softs would wear out while stuck behind the Spaniard, so they asked him to fall 10 car lengths back from his team-mate.
However, the 27-year-old reckons he would have been passed by Hamilton had he not been getting a slipstream from Leclerc, so he ignored the call and passed the Monegasque on the restart.
Sainz went on to take his maiden win having claimed his first-ever pole on Saturday, while Leclerc fell back to fourth after a magnificent battle with Perez and Hamilton, who ended second and third respectively.
Article continues below
The four-time race winner was understandably dejected after the race, but Sainz feels that his team did the best job possible under difficult circumstances.
"Honestly I think today the team managed the race really well," he explained in the post-race press conference.
"I have nothing to say, I think at one point we switched positions when we were both at risk of getting overcut by Lewis.
"I think we did it and executed it perfectly, and then they asked me to do these 10 metres but explained to them, I have behind probably the fastest man on track today, if I drop 10 metres, I might lose the slipstream.
"And then if he passes me then Charles is going to be dead meat also.
"So my decision was to get in the lead as soon as possible because I knew I was going to get in the lead before Turn Six with the grip I had on the Softs, and go from there and try to not affect his race by getting in the lead.
READ: Red Bull and Ferrari handed major blow as FIA clamp down on illegal floors
"So I told the team 'look, leave it to me, I'm going to have the lead as clean as possible,' and actually Charles did a great job to nearly stay in P2."
The 12-time podium finishes affirmed that there is still complete faith between team and driver despite some questionable calls in recent weeks.
"Sometimes the driver's feeling is there and sometimes the team might tell you something that you don't agree with and you just do your own thing because you really believe in it," added Sainz.
"But I trust the team a lot and today we executed a very fine race and we trust each other in these kinds of scenarios as you saw."
Leclerc had also lost the win at his home Monaco Grand Prix after a dubious decision on the Ferrari pit wall, and he finished fourth there too.