Alpine F1 driver Fernando Alonso has opened up on his return to Formula 1 after two years on the side-lines.
The Spaniard left the sport after spending four years with McLaren, having won 32 races in his career – the last of which came at the 2013 Spanish Grand Prix.
He managed a podium finish in Qatar this year, and played a key role in team-mate Esteban Ocon's victory at the Hungarian Grand Prix. All of this followed a horrible cycling accident in Switzerland in February, necessitating metal plates in his face.
READ: Alonso set for surgery following February bike crash
The 40-year-old has no intention of stopping his racing career any time soon, with the Spaniard looking to race in other series after his second tenure in F1 comes to a close.
"I hope to race two or three more years in Formula 1, then move on to other categories because I love driving. It would be very hard for me to be out of a car," Alonso said.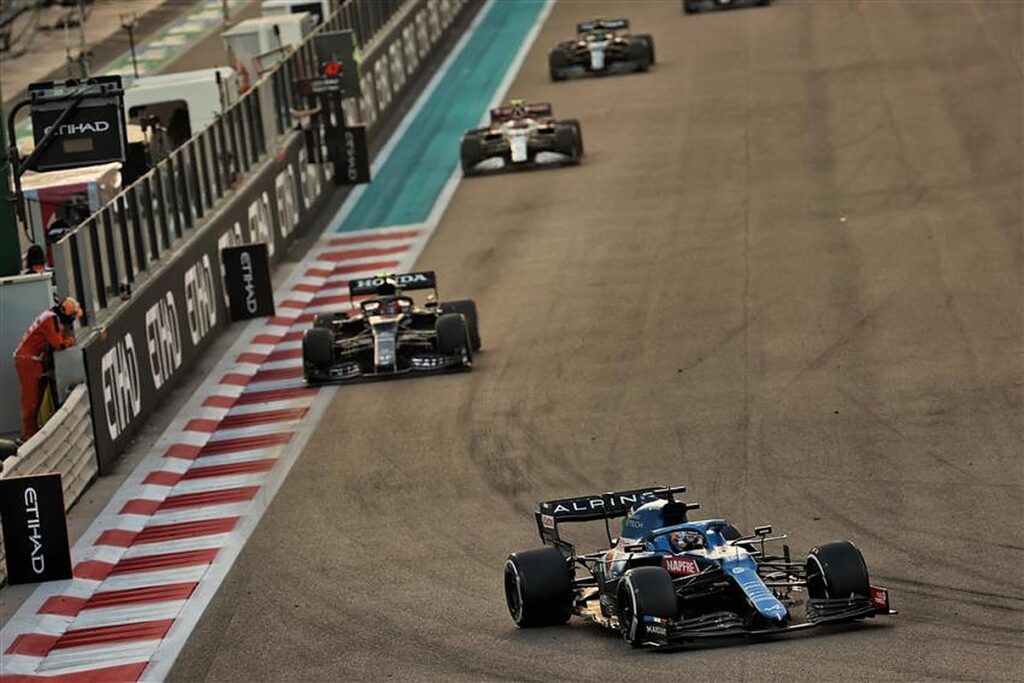 Alonso enjoyed his first season back in the sport, and believes that his activity in other series while he was away for two years made it much easier for him to get back up to speed in Formula 1.
"I'm happy to be back and looking forward to next season. I was two years out of F1 but in other competitions, with the WEC, I did the Dakar Rally, I have always had a steering wheel in my hands, so I was not standing still."
Furthermore, he insists that F1 hasn't changed from when he left in 2018, making it easier for him to slot back in.
Article continues below
"Nothing had changed, everything was the same. F1 is such a small world where it's always the same people, it doesn't change much."
Alonso struggled with F1's physical demands
While he remained comfortable in the paddock, Alonso concedes that the physical side was a struggle for him initially.
"When you're old enough, it's hard. The first few races [back] I struggled."
Furthermore, Alonso said re-acclimatising to the technical features of an F1 car proved a challenge.
"The speed at which things happen, the technical side of F1, because in other categories the cars are much more basic. In F1 you have a lot of electronics, aerodynamics, another language with the team, and that was a bit difficult for me. A thousand people in the team for two cars."
He then affirmed that racing in his forties is well within his limits, citing Carlos Sainz sr, who won the final stage of the Dakar rally in 2021.
"The experience in F1 is good, you know the circuits, but if they put 10 more HP in the engine it doesn't matter how old you are, it doesn't matter if you are 23 or 40…you have the example of Carlos Sainz senior, who is over 50 and won the Dakar."
'High hopes' for 2022
Sweeping changes to the technical regulations will be introduced in 2022, and all F1 teams have been working hard on developing their respective packages for this new era of Formula 1.
Speaking to Motorsport.com, Alonso said he and his team have "high hopes" for the new season, but they'll need to wait at least a few more months to get an idea of where they are in the pecking order.
"More power on the straights and more downforce in the corners that is what we aim for next year, all drivers," Alonso replied when asked what he's looking for from next year's challenger.
"We are strong in many areas we just need a competitive package out of the factories at Enstone and Viry. We have been working for several months now and we have high hopes but let's see in February," he added.
Alonso will contest his 20th season in the pinnacle of motorsport in 2022 after finishing 10th in the standings upon his return to Formula 1.
Follow us on Google News to never miss an F1 story